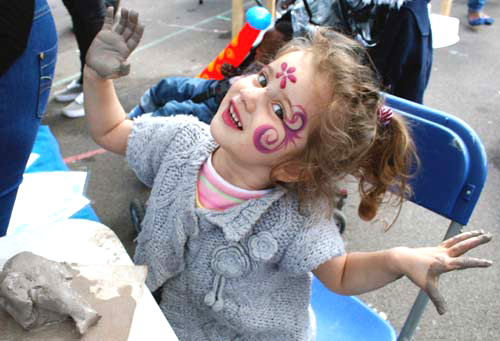 The Whale of a Time Workshop is a creative and educational event, where young and old are able to model whales and other endangered species out of clay and at the same time learn about the environment, biodiversity and sustainability whilst having a whale of a time!

Participants can not only explore their knowledge about endangered species but also have the opportunity to investigate ways we can actively change our behaviours towards a sustainable society with less impact on the environment and take steps to preserve endangered species and ecosystems whilst learning in a positive and fun atmosphere. The Whale of a Time website has links to everything you need to know on endangered species and sustainable living on our planet.

Book your event now and secure your date. Please send an email to get a quote.

Whale of a Time Workshops - April Whale Review

Flying the Flags of Forest Gate Spring Festival

We had a whale of a time "Flying the Flags of Forest Gate Spring Festival".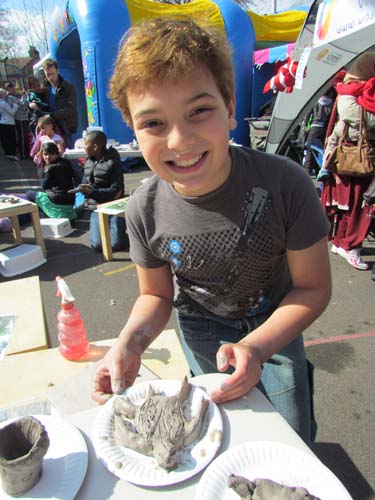 "The Flying the Flags of Forest Gate, Olympic inspired event attracted over 2000 local residents and visitors to get involved. The event programme included a talent competition, arts and crafts activities, performances, sports competitions, children's play programme, adult training classes and much more. This was enhanced by the fantastic workshop put on by Whale of a Time. The workshop attracted hundreds of adults and children, truly inspiring intergenerational interactivity, embracing and releasing creativity. Feedback from visitors said that they found the workshop therapeutic and stimulated conversation whilst learning about endangered species." - View photos of Flying the Flags of Forest Gate 2012 in the Whale of a Time Gallery

"It was well worth investing our time in working with Whale of a time!", commented Syed Haque, Community Leaders and Engagement Manager, London Borough of Newham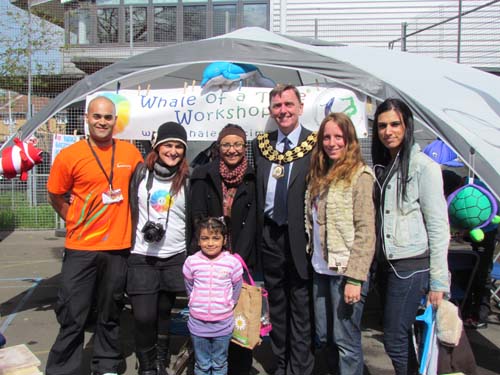 Mayor Of Newham Sir Robin Wales visited Whale of a Time. We would like to thank Syed Haque for organising a fantastic event for the whole of the community. Everybody was having a whale of a time modelling endangered species in olympic positions out of clay whilst learning about environmental issues, biodiversity and sustainability.

Participants comments included:

It's very great having lot's of fun with other children and families, thank you.

It's very creative for the kids. Need more workshops like this. Good for this kind of education. Good display.

This workshop was really cool!

View photos of Flying the Flags of Forest Gate 2012 in the Whale of a Time Gallery

Please view more photos in the Whale of a Time Gallery or read more about the Whale of a Time Workshop, read Whale Comments and our Whale Reviews. Keep up-to-date with the Whale Diary! Stay tuned and get updates by subscribing to the Whale Mail!

Whale News! Asher Jay - has joined the Whale of a Time Community.

22 April, 2012 - Happy Earth Day!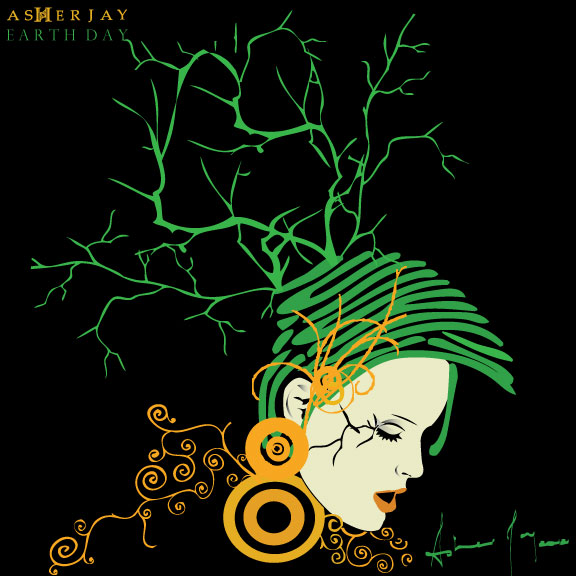 Happy Earth Day by ©Asher Jay 2012, an original work created to raise awareness about mother Earth.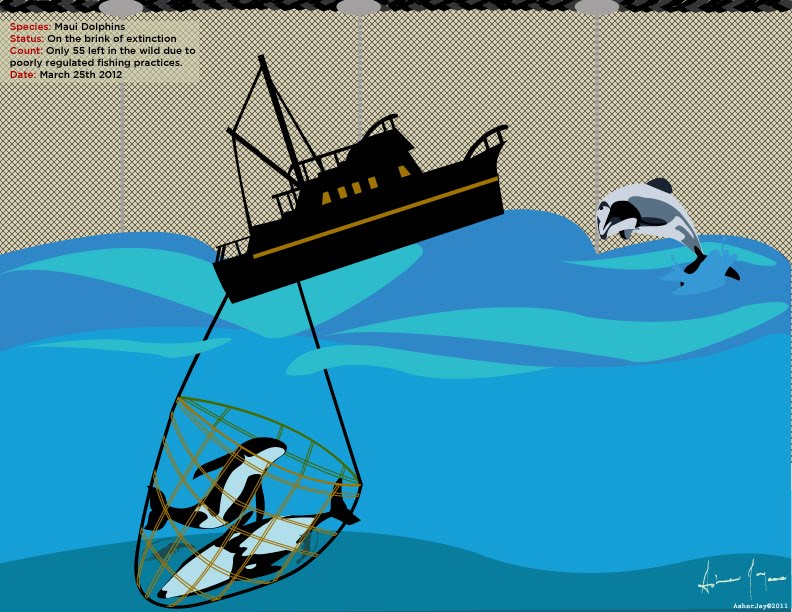 55 and Counting by ©Asher Jay 2012, an original work created to raise awareness about the dwindling count of Maui Dolphins in New Zealand's waters.
Read more: Maui Dolphin on the Brink of Extinction
The world's smallest dolphin - the Maui's - needs our help. A new study has just found that there are only 55 adult dolphins left, making it one of the most critically endangered marine species in the world. It lives exclusively off the coast of New Zealand, a nation which markets itself as "100% Pure" - and yet the government is dragging its feet in protecting the dolphin. Send an email to New Zealand's Prime Minister John Key and ask him to ban gill-nets and trawlers in NZ's waters.
Please sign Maui Dolphin petition

Become a "Whale of a Time Artist" by joining the Whale of a Time Community and help raise awareness of our beautiful planet while having a whale of a time!

We are looking for Orangutan Lovers!


We are organising an event to take action and to support the orangutans in Sumatra. As you may already be aware of the recent tragic news about the destruction of their habitat for the plantation of palm oil, they really need us now.

"The speed of destruction has gone up dramatically in the last few weeks... This is obviously a deliberate drive by these companies to clear all the remaining forests," Dr Singleton, conservation director of the Sumatran Orang-utan Conservation Programme, said in the Independent.
"If this is not stopped right now, all those orang-utans... will be gone before the end of 2012."
You may read full articles about the orangutans' situation in Sumatra below:

Up in Smoke Ecological Catastrophe in Sumatra (Independent)

Indonesian Court Backs Palmoil Company

If you would like to get involved please contact our Whale Office
Make your voice heard by signing following petitions below:
Save the Orangutans in Sumatra!
Enforce the law protecting Tripa Peat Swamp and its Critically Endangered Orangutan populations.
Over the last weeks a man made firestorm swept through a huge area of the remaining peat swamp forest of Tripa, devastating Critically Endangered Sumatran Prangutan (Pongo abelii) to the very brink of extinction, possibly within months.
Please sign Orangutan petition
The Vaquita is the world's smallest dolphin and is found in a tiny area in the Gulf of Mexico. Their current population is thought to be around 125-150 individuals. In 2 yrs the Vaquita will be extinct if we don't make a change. The Mexican and US government both list the Vaquita as endangered. Gillnets for fishing shrimp entangle and kill Vaquitas. We can save the Vaquita's by telling friends and family about the Vaquita's plight. Do not buy shrimp or fish caught in gill nets (buy farm-raised sea-food). Help the Mexican economy by traveling to Mexico. Donate to The Vaquita Recovery Fund. Send a Vaquita drawing asking the UN for it's support.
Please sign Vaquita petition
We are calling on the UK government to ban the use of this group of systemic pesticides anywhere in the UK and we need everyone to continue to pressure the UK Government and their MPs to seriously reconsider the use of these pesticides: Read more here or watch video of a bee dying - in real time poisoned through toxic sweet corn contamination caused by neonicotinoids.
Please sign Neonicotinoids petition

To see all petitions go to Get Involved.
Whale of a Time won the London region of the Future Friendly Awards 2011, the NHS Lambeth Community Wellbeing Competition 2010 and Making a Big Difference Award 2010, and was nominated for the London Peace Award 2010 and 2011, the Archant London Business Award 2010 and the Archant London Environmental Awards 2009.

Become a "Friend of the Whale", stay tuned and subscribe to the Whale Mail!

Find out how to become a Whale of a Time Volunteer or support our work through Whale of a Time Sponsorship / Whale of a Time Funding Opportunities.

Have a whale of a time! :)
Your Whale of a Time Community
020 8123 0325
To unsubscribe from the Whale Mail please send an email with the subject "unsubscribe" to whalemail@whaleofatime.org