Whale of a Time Workshop News - September 2012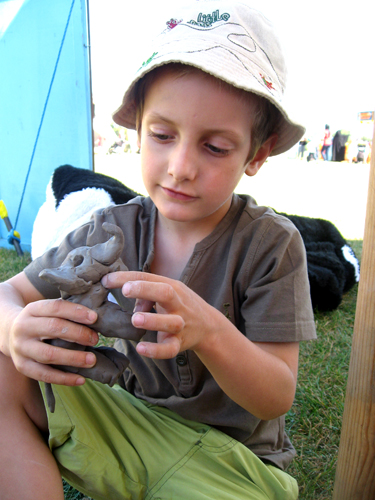 September has been a busy month for Whale of a Time. We were thrilled to be part of the Major's Thames Festival again this year, Lambeth Country Show, the Green Roadshow in Barking & Dagenham and Little Big Peace Festival in Streatham.

With hundreds of kids and yougsters getting involved and making models of their favourite endangered species we are excited to bring more awareness of the plight of the protection of our environment to people of the capital city in London.

Participants comments' included:

Mayor's Thames Festival

"Great family fun and interacitve for the children. Brilliant idea for a Sunday afternoon." Nikki and Maya Bigwood (age 2)

"Very enjoyable experience. Informative staff. Looking forward to the Whale of a Time Festival in November!" From Daniela and Maddie

"What a fantastic idea to offer children the opportunity to make models with clay and even better that it is free." C Thomas

"We really enjoyed making clay animals. Rose mad a ball! Thank you! Save the dolphins! Great workshop!" xx

"Thanks for a great day! My son loved it and knew a lot of the sea creatures in the photos." Bonnie-Katie Dewon, E14 London

"Thanks for a great opportunity to be creative!" Cecilia & Ruby (4 and 12 yrs)



Mayor's Thames Festival - Whale of a Time Gallery




Lambeth Country Show

"The modelling is really fun. I never knew I was so good."

"It was so fun I have never done it before."

"I have been proud of my shell and my mum is a great artist." Alice

"My daughter enjoyed getting creative with the clay. Lovely afternoon with friendly people." Amanda :)

"I had a very fun day and I wish we could do this all the time!"

"Thank you for coming and bringing the sunshine!"



Lambeth Country Show - Whale of a Time Gallery



Green Roadshow

"I have done this the first time in my life and it was great!" R. Iqbal

"I really enjoyed making all these things and doing it all with clay." Vera

"It is very fun making things out of clay. It was fun exciting and very interesting."

"Very fun! Very fun!"



Green Roadshow 2012




Little Big Peace Festival

"This was a phenomenal appeal for saving animals. I made a turtle." Patrick Dennis, age 9

"This event is a very good one for the community to get together and also for the children to be able to be creative!"

"Very good event! Kids really enjoyed the workshop!" Sasha and Nicholas (8 and 7)

"Great idea to get everyone together and sharing ideas. Enjoyed the clay modelling with the kids!"

"Thanks for a fantastic afternoon!" Philippe and Family

"Thank you for the opportunity! Let's help others!"

"Thank you for educating me on what more I can do to help to look after our planet and the creatures in the wild. I now feel better informed about the fish and seafood that i can eat and more aware of other issues around the world." Susie



Little Big Peace Festival - Whale of a Time Gallery


Please view more photos in the Whale of a Time Gallery or read more about the Whale of a Time Workshop, read Whale Comments and our Whale Reviews. Keep up-to-date with the Whale Diary! Stay tuned and get updates by subscribing to the Whale Mail!

Whale News! Whale of a Time Artist, Asher Jay - offers prints for sale.

Become a "Whale of a Time Artist" by joining the Whale of a Time Community and help raise awareness of our beautiful planet while having a whale of a time! Contact our Whale Office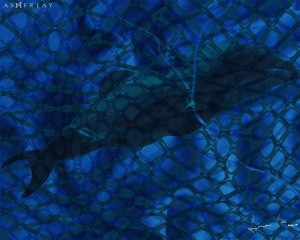 Gill Net Ghosts (Maui Dolphins), 2012
Asher Jay (1984 -Present)
A3 Art Print.
Original Media: Graphic Illustration
Price: £125 GBP (without frame)
www.asherjay.com an ENACT campaign

The world's smallest dolphin - the Maui's - needs our help. A new study has just found that there are only 55 adult dolphins left, making it one of the most critically endangered marine species in the world. It lives exclusively off the coast of New Zealand, a nation which markets itself as "100% Pure" - and yet the government is dragging its feet in protecting the dolphin. Send an email to New Zealand's Prime Minister John Key and ask him to ban gill-nets and trawlers in NZ's waters.
Please sign Maui Dolphin petition
Make your voice heard by signing following petitions below:
Save the Orangutans in Sumatra!
Enforce the law protecting Tripa Peat Swamp and its Critically Endangered Orangutan populations.
Over the last weeks a man made firestorm swept through a huge area of the remaining peat swamp forest of Tripa, devastating Critically Endangered Sumatran Prangutan (Pongo abelii) to the very brink of extinction, possibly within months.
Please sign Orangutan petition

Sign more petitions at Get Involved.
Whale of a Time won the London region of the Future Friendly Awards 2011, the NHS Lambeth Community Wellbeing Competition 2010 and Making a Big Difference Award 2010, and was nominated for the London Peace Award 2010 and 2011, the Archant London Business Award 2010 and the Archant London Environmental Awards 2009.



Become a "Friend of the Whale", stay tuned and subscribe to the Whale Mail!

Find out how to become a Whale of a Time Volunteer or support our work through Whale of a Time Sponsorship / Whale of a Time Funding Opportunities.

Have a whale of a time! :)
Your Whale of a Time Community
020 8123 0325
To unsubscribe from the Whale Mail please send an email with the subject "unsubscribe" to whalemail@whaleofatime.org