Expedition to the Antarctic
From the bottom of the world - Some thoughts on returning from an Antarctic expedition
by Michael Norton, author of 365 WAYS TO CHANGE THE WORLD and THE EVERYDAY ACTIVIST, 10th December 2007
Download report in pdf format here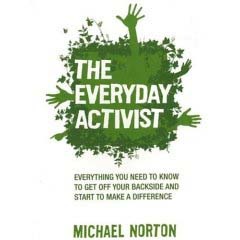 The Everyday Activist (book) - Published October 2007 by Boxtree (a PanMacmillan imprint), £9.99
The book suggests the following six steps to changing the world
Step 1: You can change the world. It's people who will make the world a bit better or their community a nicer place to live in. Everyone can play a part. Be inspired by some people who have gone out and done something. If they can do it, you can too. Find out if you have what it takes.
Step 2: Decide to become an Everyday Activist. Give up apathy. That's the biggest problem facing the world. Start by doing little things that will make a difference. Do lots of little things and you will begin to make a really big difference. Get into the habit of everyday activism. You will find that it will change you as well as change the world.
Step 3: What's the problem? Now you're beginning to get into the swing of things. The next step is to identify the problems that are really important to you in your life, in your community, in your country, in the wider world. What's bugging you? What do you want to see made better? And are you prepared to do something about it?
Step 4: Come up with a solution. If there's a problem, there must also be a solution. Think creatively and come up with your very own world-beating idea for dealing with the problem. If you have a great idea, then making things happen becomes a whole lot easier.
Step 5: Go out and do something. Start your own project. Find others who will work with you to make something happen. It can be a lot of fun. You will make a difference, and you will make new friends. It could even change your life.
Step 6: World domination. Your project could become really successful. It could be replicated all over your country, perhaps even all over the world. You might even win a Right Livelihood Award or the Nobel Peace Prize. A great idea that meets a real need oh, and a lot of hard work that is all it takes!
The book also includes an Action Guide.
To run a successful project, you need to be well organised, you need to tell people about what you are planning and what you have achieved, and you need to mobilise all the resources you will need.
This book includes an action guide on how to get organised, how to communicate and how to fundraise.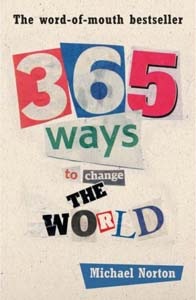 365 Ways to Change the World - 2008 edition (book)
Author: Michael Norton
Title: 365 Ways to Change the World
Thanks for taking an interest in our book. The book is written by Michael Norton. Michael spent two years collecting ideas, developing details and researching further information sources and a practical guide to things that everyone can do everyday.
(If you want to go into more detail about particular issues, he also offers lots of additional places you can investigate to find out more.)
Michael promotes the idea that it is always worth doing something, and no-one needs to feel irrelevant to the world's problems. He's written the book in an intelligent, exciting and straightforward way that will help you realise how much even your own small and individual actions can help make a difference and how much fun you can have doing them!
This ingenious handbook suggests one action for every day of the year - some are intriguing, many are unusual, a few involve fundraising, almost all can be planned or done from your home or computer, most will be fun, all are achievable.
Including...
* Support trade justice: buy three footballs
* Avoid landfalls: start freecycling
* Create a lifeline: for remote African villages with wind-up radio
* Sow the seeds of a green revolution: go guerrilla gardening
* Organise a fundraising event: speed dating for safer childbirth
* Get out of debt: join the church of Stop Shopping
* Fight child slavery: nibble on some fairtrade chocolate
* Influence the world's media: become a blogger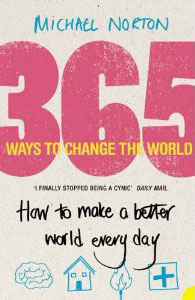 365 Ways to Change the World
2006 mass market edition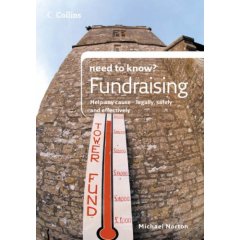 Need to Know: Fundraising (book)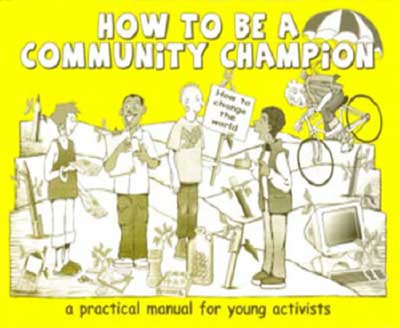 How to be a Community Champion (book) - Published by Community Links
A lively and practical guide packed with ideas and advice for young people wanting to take action in their community or change the world.
How to be a Community Champion is aimed at those young people who wish to engage in some sort of community action to help them do it themselves.