Interview with Patrick Rouxel
"Green" is about the rainforest of Indonesia. It is 48 min long, it is available for free download for all private and public screenings. The film is in international version accessible to all nationalities, produced independently and free of all commercial or political attachment. Please don't hesitate to screen the film wherever you feel appropriate.
To purchase a DVD: please contact Green Planet for DVDs in NTSC or make a donation of 10 or 15 Euros using the pay-pal donate button on the front page of this site. Don't forget to mention your address.
To save the Indonesian rainforest we must choose to change our consumer habits so as to not be part of the destruction. If we are enough to do so, we can make a significant impact on the markets involved and make them change. All it takes is avoiding palm oil, tropical hardwoods and paper from tropical countries.
We must show the way…
Her name is Green, she is alone in a world that doesn't belong to her. She is a female orangutan, victim of deforestation and resource exploitation. This film is an emotional journey with Green's final days. It is a visual ride presenting the treasures of rainforest biodiversity and the devastating impacts of logging and land clearing for palm oil plantations. Watch complete film at "Green"
Visit http://studyinggreen.wordpress.com for further study.
Patrick's Gallery
The second in a trilogy of tropical rainforest destruction films.
Beautifully shot, alternately joyful and horrifying, Alma captures the ecological, and even spiritual, cost of meat, dairy, and leather production in the Amazon.
Since 2003, Patrick Rouxel has dedicated his time to making films aimed at raising awareness of deforestation, loss of biodiversity, and the ethical treatment of animals. The multi-award winning GREEN presented a heartrending account of the life of an Orangutan against a backdrop of palm oil production and natural habitat loss.
In Alma, Rouxel continues his cinematic journey into the world's forests and the industries that are destroying them, this time heading to Brazil to explore the devastating impacts of the cattle industry. Here he creates a powerful statement about the global industrial economy and the speed with which virgin forests are being cleared for timber and new grazing land.
The film offers a unique and visually stunning exposition of a colorful cowboy culture and the millions of animals used to satisfy our voracious global appetite for meat and dairy products. In almost-wordless contemplation, the film wanders from forest to pasture to rodeo to slaughterhouse to market to tannery. In essence, Alma is a journey into the soul of humanity and a testimony of the damage inflicted by humans on the natural world. ~ Rachel Caplan, San Francisco Green Film Festival
Green (portrait)

Rainforest Deforestation in Sumatra and Borneo
Indonesia has one of the world's worst deforestation rates, averaging at around 2 million hectares a year. In 1950 the forest cover of Indonesia was about 160 million hectares, today less than 48 million hectares are left.
The Indonesian archipelago is made of about 16000 islands for a total area of 1,900,000 km2. Orangutans in the wild can now only be found in the forests of Sumatra and Borneo.

Food Industry - Brands and Products using Palm Oil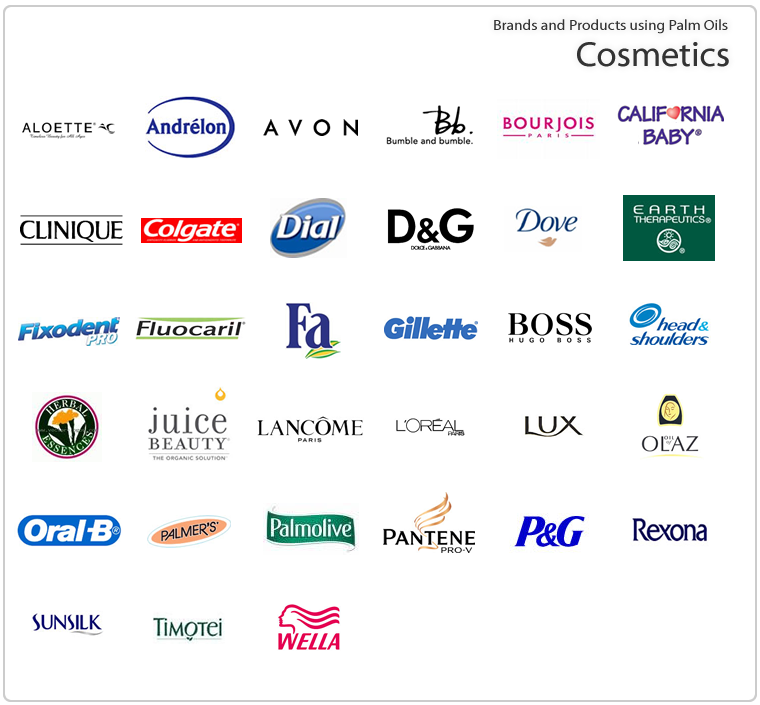 Cosmetic - Brands and Products using Palm Oil
Comments
Jean François Camilleri, President of Disney Nature, CEO of Walt Disney Studios Motion Pictures International
"Je viens de regarder Green. Quelle force, quelle intensité ! Ces prix à Jackson Hole sont tellement mérités. Vous avez réalisé une oeuvre majeure. Bravo."
Sydney Suissa, Executive Vice President for National Geographic Channel International
"I could not stop watching this film. It's based on a simple idea really: to see ecological degradation through the eyes of one single animal, an animal so human in its appearance that you soon forget that Green is an Orangutan but rather a tragic victim of our actions. It's an extraordinary film, rendered with masterly skill and packing a powerful emotional punch. Without a single word spoken throughout, the film creates a searing indictment of how we use this earth with no regards for the silent neighbours we share it with. Please watch it."
Dione Gilmour, Head of Natural History Unit at ABC Australia
"This is a truly original and innovative program that came as a complete surprise. It's such an important subject in the world today and to communicate across all cultures that concern without words but through pictures and a very beautiful sound track makes this a very important film.It's my favourite program for this year – Congratulations"
DEFORESTATION OF INDONESIA IS MADE POSSIBLE BY...
THE COMPANIES BEHIND THE WOOD INDUSTRY
Sinar Mas Group – Indonesia
Salim Group – Indonesia
Barito Pacific Group – Indonesia
Bakrie & Brothers Group – Indonesia
Tanjung Lingga – Indonesia
Astra International - Indonesia
Djajanti Group – Indonesia
Kalimanis Group – Indonesia
Kayu Lapis Group – Indonesia
Korindo Group – Indonesia
Gudang Garam – Indonesia
Raja Garuda Mas Group – Indonesia
PT Uniseraya Group - Indonesia
PT Diamond Raya – Indonesia
Mitra Usaha Sejati Abadi (MUSA) – Indonesia
Surya Dumai – Indonesia
Sumalindo Lestari Jaya Group - Indonesia
PT Inhutani - Indonesia
Benua Indah Group – Indonesia
Lyman Group – Indonesia
Alas Kusuma Group - Indonesia
Sumber Mas Group Samarinda - Indonesia
Hasko Group – Indonesia
Central Cipta Murdaya Group – Indonesia
PT Tanjung Kreasi - Indonesia
Rimbunan Hijau – Malaysia
WTK Group – Malaysia
Samling Global Limited - Malaysia
Kerwara Limited – Malaysia
THE COMPANIES BEHIND PULP AND PAPER INDUSTRY
Sinar Mas Group- Indonesia
Asia Pulp and Paper (APP) – Indonesia
Indah Kiat – Indonesia
Kertas Nusantura - Indonesia
Kalimanis Group – Indonesia
Raja Garuda Mas – Indonesia
Kiani Kertas – Indonesia
Raja Garuda Mas International – Indonesia
Asia Pacific Ressources International Holdings (APRIL) – Indonesia
PT Inti Indorayon Utama – Indonesia
PT Riau Andalan Pulp and Paper - Indonesia
PT Tanjung Enim Lestari Pulp and Paper (TEL) - Indonesia
PT Musi Hutan Persada Pacific Timber – Indonesia
PT Arara Abadi – Indonesia
United Fiber System Limited (Unifiber) - Singapore
Jaakko Pöyry - Finland
THE COMPANIES BEHIND THE PALM OIL PRODUCTION
Sinar Mas Group - Indonesia
Astra Agro Lestari – Indonesia
Raja Garuda Mas International – Indonesia
Asian Agri – Indonesia
Salim Group - Indonesia
Inti Indosawit Subur - Indonesia
Musim Mas Group – Indonesia
Duta Palma – Indonesia
Inexco – Indonesia
Indofood Sukses Makmur – Indonesia
Makin Group – Indonesia
London Sumatra – Indonesia
Bakrie and Brothers – Indonesia
Anglo Eastern Plantations Plc – Indonesia
First Resources Limited – Indonesia
Agro Group – Indonesia
Austindo Nusantara Jaya – Indonesia
Surya Dumai Group - Indonesia
Sime Darby Group – Malaysia
IOI Group – Malaysia
JC Chang Group – Malaysia
Guthrie – Malaysia
Golden Hope – Malaysia
Kuala Lumpur Kepong – Malaysia
Asiatic Development – Malaysia
Boustead Holdings – Malaysia
United Plantations – Malaysia
IJM Plantations – Malaysia
Tradewinds Plantation – Malaysia
Golden Agri – Singapore
CTP Holdings Pte Ltd – Singapore
Wilmar / Kuok / ADM - USA
Cargill - USA
MP Evans Group – United Kingdom
Socfindo – Belgium
THE BANKS AND FINANCIAL INSTITUTIONS SUPPORTING IN THE ABOVE INDUSTRIES
World Bank
International Monetary Fund (IMF)
International Finance Corporation (IFC)
World Trade Organization (WTO)
Asian Development Bank (ADB)
World Resources Institute (WRI)
COFACE – France
Export Credits Guarentee Department (ECGD) – United Kingdom
Export Import Bank (EX-IM) – USA
Overseas Economic Cooperation Fund – Japan
Finnvera - Finland
Export Development Canada - Canada
Export Credit Guarantee Board – Sweden
CellMark - Sweden
Gerling-NCM - Germany
National Machinery Equipment Import Export Corporation (CMEC) – China
China Export & Credit Insurance Corporation - China
Sinar Mas Bank – Indonesia
ABN Amro Bank – Indonesia
Bank Central Asia - Indonesia
Bank Mandiri – Indonesia
Babobank Duta - Indonesia
Bank DBS – Indonesia
Bank Panin – Indonesia
Bank Resona Perdania – Indonesia
Danareksa Securities – Indonesia
OCBC Bank – Singapore
DBS Bank – Singapore
AFC Merchant Bank - Singapore
CIBM Group – Malaysia
Malayan Banking - Malaysia
SOCFIN – Belgium
Sipet – Belgium
Bank Brussels Lambert – Belgium
Raifeisen Zentralbank Österreich AG – Austria
Andritz – Austria
Rabobank – Netherlands
ING Bank- Netherlands
Fortis Bank – Netherlands
German Development Bank (DEG) – Germany
Deutsche Bank – Germany
Commerzbank – Germany
HSH Nordbank AG – Germany
HSBC – United Kingdom
Legal & General – United Kingdom
Barclays – United Kingdom
Standard Chartered Bank - United Kingdom
Royal Bank of Scotland – United Kingdom
Edinburgh Java Trust – United Kingdom
Collins Stewart – United Kingdom
Loyds Bank – United Kingdom
Numis Corporation – United Kingdom
Astra Zeneca – Sweden / United Kingdom
UBS – Switzerland
Credit Suisse – Switzerland
Goldman Sachs - Switzerland
Bank of Tokyo-Mitsubishi (UFJ) – Japan
Mizuho Bank - Japan
Vivendi Water – France
Natixis – France
BNP Paribas - France
Credit Agricole – France
AXA – France
Société Générale – France
Citibank – USA
Cornell Capital Partners – USA
Merrill Lynch – USA
Morgan Stanley – USA
JP Morgan Chase – USA
Lehman Brothers – USA
Amroc – USA
Blackrock – USA
THE COMPANIES TRADING OR BUYING WOOD PRODUCTS FROM INDONESIA
CSH Industrial Group - Singapore
Aeonic International Trade - Singapore
Wajilam Exports – Singapore
Jason Parquet - Singapore
Neeshai Trading – Singapore
Nature Wood - SIngapore
Chippel Overseas Supplies – Singapore
Tong Hin Timber Group - Singapore
Sitra Holdings – Singapore
Chiang Leng Hup Plywood - Singapore
Pargan - Singapore
Sunlight Mercantile – Singapore
Sunrise Doors International - Singapore
Wason Industries – Singapore
Dowlet Trading Enterprises – Singapore
Pan Majestic Holdings – Malaysia
Acmeco Ventures – Malaysia
Flooring Box - Malaysia
Hok Lai Timber - Malaysia
Kim Teck Lee Timber Flooring – Malaysia
McCorry Group - Malaysia
Sumec International Technology Trade – China
Jiangsu Kuaile W
Studying Green
Studying Green - A study and series of essays by Dr Sian Sullivan, Senior Lecturer in Environment & Development, Dept. of Geography, Environment & Development Studies, Gill Branston, John Blewitt, Mike Goodman, Jamie Lorimer, James Igoe, Dan Brockington and Patrick Rouxel