August 2010
Dear Friends of the Whale,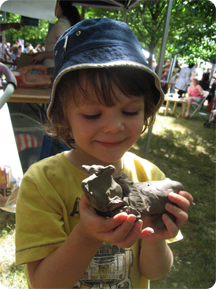 When: 5th Sepbember
Sunday, 11 am - 6 pm
Where: Brockwell Park, London, SE24 0NG, United Kingdom

The Whale of a Time Workshop will take place in the Kids Zone.
How do I get there?
To find Brockwell Park please click here to view Google Map.
Link: Urban Green Fair


The Whale of a Time Workshop is fun and it's free!

Come and have a go and make your favourite animal or plant species in clay.
Whale of a Time is being held as part of The Urban Green Fair, an independent green fair for London powered by solar and wind energy, taking place on 5th September 2010.
The Whale of a Time Workshop is a fun and hands-on activity, where young and old are able to model whales and other endangered species out of clay, and at the same time learn about the environment, biodiversity and sustainability.
This Whale of a Time Workshop is sponsored by the Lambeth Psychological Therapies Service, a part of the national IAPT programme run by the NHS. The aim is to increase people's awareness of ways to help wellbeing. We do this by engaging young and old in environmental issues through modelling endangered species in clay. Read NHS news release.
What is mental wellbeing?
"To experience good mental health and wellbeing is to feel positive about today and to have hope for the future; to feel reasonably confident about being able to handle life's stresses and problems; and that mostly life is fulfilled and rewarding" 'Wellbeing and Happiness in Lambeth' Please feel free to download information about The Lambeth mental wellbeing programme
Click here to take survey about community wellbeing
The Whale of a Time Workshop is based on modelling techniques where you can learn how to use sculpting tools and explore your creativity through experimentation. We work from wildlife photographs and you can create your unique art pieces whilst learning about endangered species around the planet.
Clay-sculpting is therapeutic and helps to release stress and tension while connecting with nature. The Whale of a Time Workshop supports this journey of transformation and brings healing and wellbeing to both the participants and the planet. NHS Lambeth has just commissioned us to do action research on the health benefit of our workshop. Read more about the Whale of a Time Workshop.
All your models are displayed during the festival at the Whale of a Time Gallery and after the festival is finished you can take your models home or get them fired and glazed. View photos of previous workshops online at the Whale of a Time Gallery.

The Urban Green Fair is a Community Interest Company (CIC), providing a simple step to a sustainable future. Our aims are principally to organise an outdoor 'festival', through which we:
Empower, educate and enthuse people regarding current environmental issues, by effective and positive communication.
Present environmentally-focussed products, businesses, practises and information.
Engage with diverse local communities, before, during and after the event.
Provide a uniquely family-friendly learning environment, not diluted by alcohol or loud music.
The Urban Green Fair: "Skill up for power down"
Please contact Urban Green Fair, Press and PR at shane@gn.apc.org
Please contact Irene Schleining, Whale of a Time Press and PR at irene@whaleofatime.org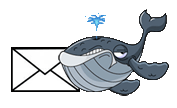 Flukey and Spirit, our big fluffy giant whales will be waiting for you! :)
Have a whale of a time! :)
Your Whale of a Time Community
To unsubscribe from the Whale Mail please send an email with the subject "unsubscribe" to whalemail@whaleofatime.org