Dear Friends of the Whale,
Whale of a Time is a Green Community Champion and we're proud to announce that we have won the Making a Big Difference Fund in Lambeth. As part of the award we have been invited to be part of the Lambeth Country Show this summer to run the Whale of a Time Workshop for the local community in Lambeth.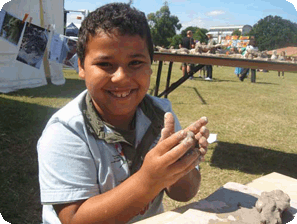 A big whale thanks to all the wonderful people who have particiapted in the Whale of a Time Workshop and contributed to the wonderful atmosphere in Lambeth's Green Community Champions Area.
As usual the Whale of a Time Workshop has been buzzing and busy with hundreds of participants including children, teenagers and adults from the local area and people travelling from all over London making models of their favourite animal and plant species.
Participants made models of whales, dolphins, rhinoceros, lions, tigers, elephants, star fish and many beautiful and unique art sculptures in clay whilst expressing themselves creatively and connecting with nature.
Participants were exploring environmental issues we're facing today and the impact on endangered species, and how we can contribute in a positive way to support our planet. We feel that it's important to engage people with environmental issues in a fun and inspirational way. The creative and educational workshop makes a big difference to the community. As part of the workshop people are encouraged to pledge to do something to help preserve wildlife and balance our environmental impact on the planet.

Please read comments of participants below:
Nathalie (mother) and Isabelle (daughter) said, "Had a lovely, fun time making animals with clay with friendly, helpful staff. Good luck with all your work."
"What a fantastic idea!"
Martyn, said "Our son really did enjoy sculpting a dolphin and learning about why they are endangered. Thank you."
"Thank you so much for all the information provided about our environment. Animals in danger. I think people would get more conscious about that for the good future of our own children. THANKS."
Rachel said, "Much fun being children – as we all should be now and again. Well done. xx"
Maggie said, "My daughters, Emi and Jo Jo really loved making George the last giant tortoise and a Scottish wild cat – Great idea!"
"I loved it because it was clay and sticky too and lovely." (age 6)
"I think that this workshop is cool because I have never been to a festival with clay making before." (age 9)
Colin said, "It's right champion!" (events organiser, Pétanque in the Park)
Sharon (38) said, "What a neat thing to get everyone involved in."
Sarah said, "The 7 kids all really enjoyed it. Thank you!"
"Very good for children. Good work, keep it up. Love it."
Everybody was having a whale of a time connecting with nature. Please view photos of the Whale of a Time Workshop at the Lambeth Country Show 2010 at the Whale of a Time Gallery.

To watch a video of the Whale of a Time Workshop please click on image below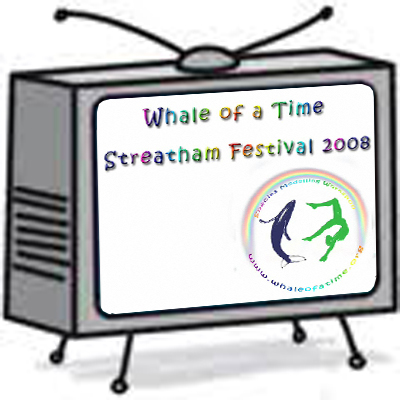 We're also delighted to announce upcoming Whale of a Time Summer Workshops for August 2010: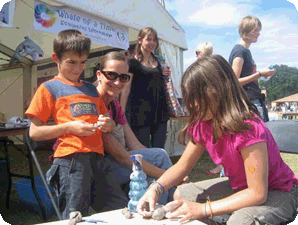 When: 20th - 21st August
Fri 10am - 1.30pm
Sat 1.30pm - 5 pm
Where: near Crickhowell, Brecon Beacons, Wales, United Kingdom


How do I get there?
To find Crickhowell please click here to view Google Map.
Find out more about transport information.
The Whale of a Time Workshop will take place in the Kids Area.
The Green Man Festival is an independent music festival held annually in the Brecon Beacons, Wales. "Of all the festivals in all the fields in Britain, probably the best field of all has been bagged by the Green Man Festival" (The Times).
It's a three-day festival with live music including psych, folk, indie, dance and Americana across five stages, as well as DJs playing everything from dub-reggae to electro and stoner rock, throughout the night.
Music is at the heart of Green Man, but aspects of culture, sustainable living and environmental consciousness have become central to Green Man too. This year there will be an opportunity to sculpt your favourite animal or plant species in clay at the Whale of a Time Workshop.
The festival has carved a niche as a non-corporate and ethically-minded festival, and is widely regarded as the leading boutique festival on the UK festival circuit.
Please read more about the Green Man Festival here. To find out more about the Whale of a Time Workshop please click here.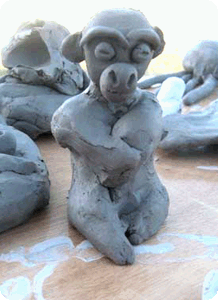 Come and have a go and make your favourite animal species in clay. The Whale of a Time Workshop is based on modelling techniques where people learn how to use sculpting tools and explore through experimentation. Clay-sculpting is therapeutic and helps to release stress and tension while connecting with our deep inner feelings. Participants work from wildlife photographs and create unique art pieces whilst expressing their creativity and learning about endangered species and the human impact on our planet.
All models will be displayed during the festival at the Whale of a Time Gallery and after the festival is finished you can take your models home or get them fired and glazed.
View photos of Fired & Glazed Models at the online Whale of a Time Gallery

Flukey and Spirit, our big fluffy whales will be waiting for you! :)
Have a whale of a time! :)
Your Whale of a Time Community
To unsubscribe from the Whale Mail please send an email with the subject "unsubscribe" to info@whaleofatime.org