Archant London Environmental Award
Whale of a Time is proud to announce that the Whale of a Time Community has been nomminated a finalist of the Archant London Environmental Awards 2009.
Award Cathegory: Best Environmental Project/initiative
The Archant London Environmental Award acknowledges the achievement of talented people, organisations or groups for their contribution they have made to the local environment via membership of an eco-friendly organisation or on a larger scale through involvement with a local community project.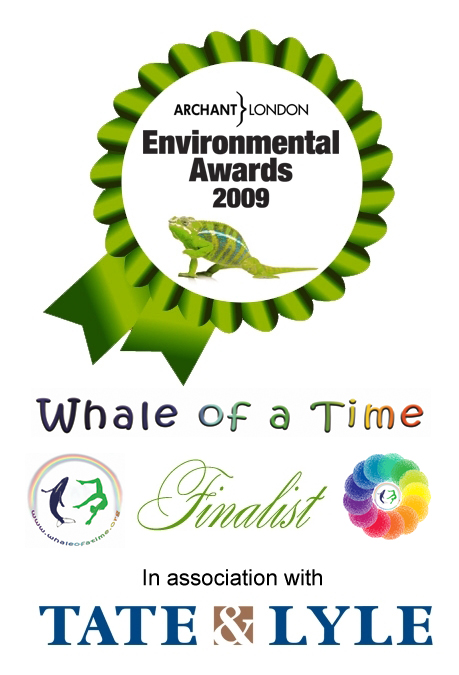 It was a great pleasure to be part of the Archant London Environmental Awards. It's wonderful to see great green initiatives to support a sustainable community in London and we'd like to thank Archant, Tate and Lyle, Swiftflow, Thames Water, The POD for greener schools, Hackney Council, LRS Consultancy and Xero for their sponsorship of the awards. It's so important to recognise the work for the benefit of our community and our environment.
All life depends on a healthy balanced ecosystem for present and future generations. The United Nations declared 2010 International Year of Biodiversity. It's a celebration of life on Earth and of the value of biodiversity for our lives and this makes it a very suitable time for organising the Whale of a Time Workshop.
Photo below: Irene Schleining, Director of Whale of a Time (right) and Penney Poyzer, Queen of Green, who stars in the BBC series "No Waste Like Home" presented the winners of the Archant London Environmental Awards 2009 in which Whale of a Time was nominated a finalist in the category for Best Environmental Project!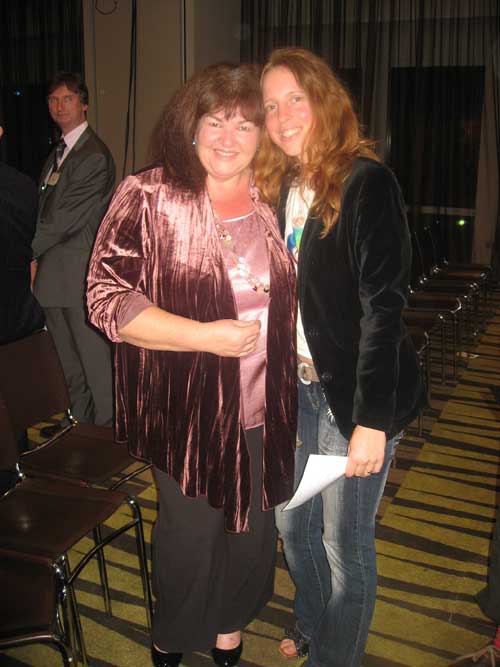 Download list of finalists (pdf)