ESRC Whale of a Time Festival of Social Science 2012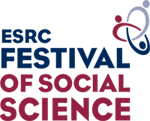 The first Whale of a Time Festival took place on 3 - 4 November 2012 at Birkbeck, University of London. The festival was an inspiring and empowering way of getting involved in social and environmental issues through exclusive film screenings by award-winning environmental film-makers followed by informative discussions with leading environmental and social researchers, sustainable art exhibitions, music and the Whale of a Time Workshop in celebration of the Earth and the world's oceans and rainforests.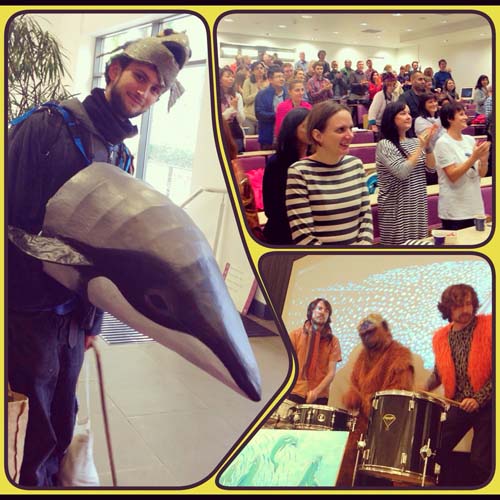 Photo: Taken by Saul Tracey


The Whale of a Time Festival is a great opportunity to participate in an event that aims to bring the need of sustainable energy consumption and conscientious living right at the heart of the community through an open discussion on today's most pressuring environmental issues whilst having a whale of a time!

During the Whale of a Time Festival our feeling of belonging to one Earth Community is being amplified and all voices have the chance to be heard. By celebrating our common roots in nature, we are able to nurture and strengthen our sacred bond with Mother Earth. Through this unique bond we are able to recognise our commitment for a positive relationship with nature. This awareness is necessary for a sustainable and conscientious society. We share a common intelligence with indigenous communities, whales and their ocean societies, orang-utans and their rainforest communities and everything that is alive. This special bond with the web of life connects us deeply with all Earth inhabitants as one "Earth Family". Through this awareness we can bring about sustainable change in our lives.

During the ESRC Whale of a Time Festival of Social Science in 2012 we promoted values of sustainability, biodiversity and nature conservation, indigenous cultures, the right to life, the Rights of Cetaceans, the Universal Declaration of the Rights of Mother Earth, Marine Protected Areas (MPAs), Rainforest Preservation, Eradicating Ecocide and alternative sustainable future technologies.

Check out what happened at the ESRC Whale of a Time Festival of Social Science in 2012!

Festival Programme

Festival Review
HAVE A WHALE OF A TIME & TAKE CARE OF OUR PLANET!
Whale of a Time won the London region of the Future Friendly Awards 2011, the NHS Lambeth Community Wellbeing Competition 2010 and Making a Big Difference Award 2010, and was nominated for the London Peace Award 2010 and 2011, the Archant London Business Award 2010 and the Archant London Environmental Awards 2009.

Become a "Friend of the Whale", stay tuned and subscribe to the Whale Mail!

Find out how to become a Whale of a Time Volunteer or support the growing wave of sustainable change through Whale of a Time Sponsorship / Whale of a Time Funding Opportunities.

Have a whale of a time! :)
Your Whale of a Time Community
020 8123 0325