My Creative Message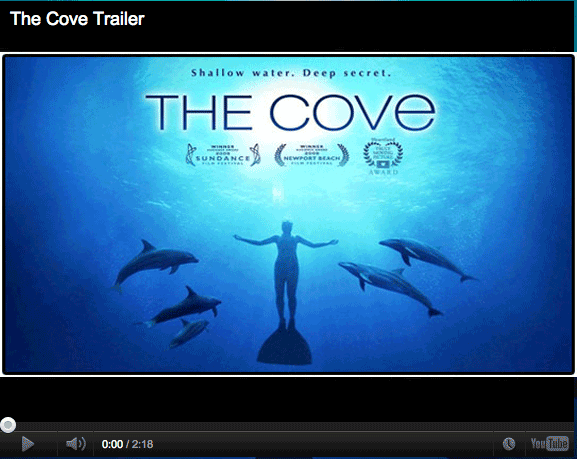 The Cove begins in Taiji, Japan, where former dolphin trainer Ric O'Barry has come to set things right after a long search for redemption. In the 1960s, it was O'Barry who captured and trained the 5 dolphins who played the title character in the international television sensation Flipper. But his close relationship with those dolphins – the very dolphins who sparked a global fascination with trained sea mammals that continues to this day – led O'Barry to a radical change of heart. One fateful day, a heartbroken Barry came to realize that these deeply sensitive, highly intelligent and self-aware creatures so beautifully adapted to life in the open ocean must never be subjected to human captivity again. This mission has brought him to Taiji, a town that appears to be devoted to the wonders and mysteries of the sleek, playful dolphins and whales that swim off their coast. But in a remote, glistening cove, surrounded by barbed wire and "Keep Out" signs, lies a dark reality. It is here, under cover of night, that the fishermen of Taiji, driven by a multi-billion dollar dolphin entertainment industry and an underhanded market for mercury-tainted dolphin meat, engage in an unseen hunt. The nature of what they do is so chilling – and the consequences are so dangerous to human health – they will go to great lengths to halt anyone from seeing it. The Cove is directed by Louie Psihoyos and produced by Paula DuPre Pesman and Fisher Stevens. The film is written by Mark Monroe. The executive producer is Jim Clark and the co-producer is Olivia Ahnemann.


Captivity is Cruel - Don't go to a show!
Please be aware and pledge not to buy tickets to any parks and swim-with-dolphins programs as they exploit dolphins and whales. WAZA has the power and influence to stop the trafficking in live dolphins and urge an end to the cruelty associated with the display of dolphins and whales. By signing this petition you urge WAZA to act responsibly.
Please sign Dolphin petition
About Richard O' Barry
Richard O'Barry has worked both sides of the dolphin street—the first ten years with the dolphin-captivity industry, the past forty against it. O'Barry graduated from the Diver's Training Academy in 1960 as a commercial deep-sea diver and scuba instructor. He served in the U.S. Navy for five years, where he received a commendation for his underwater work. While working in the 1960s as a diver and trainer for Miami Seaquarium, O'Barry captured and trained dolphins, including Hugo, the first orca in captivity east of the Mississippi, and the five dolphins that played the role of Flipper in the popular American television show of the same name. When Kathy, the dolphin that played Flipper most often, died in O'Barry's arms, he realized that capturing dolphins and training them to perform silly tricks was simply wrong.

From that moment, O'Barry knew what he needed to do with his life. On the first Earth Day, April 22, 1970, he founded the Dolphin Project, an organization dedicated to educating the public about the plight of dolphins in captivity and freeing captive dolphins without jeopardizing their well-being when the owners allow them to be released. O'Barry launched a searing campaign against the multibillion-dollar dolphin-captivity industry, informing the public about what really goes on at dolphin shows and urging people not to buy tickets to watch dolphins play the fool. O'Barry has since rescued, rehabilitated and released more than twenty-five captive dolphins in Haiti, Colombia, Guatemala, Nicaragua, Brazil, the Bahamas, and the United States. With more than fifty years of experience with dolphins, he has shared his firsthand knowledge of the dangers of dolphin capture and training methods at lectures and conferences around the world.

In 1991, in recognition of his contribution to the protection of dolphins, O'Barry received an Environmental Achievement Award, presented by the United States Committee for the United Nations Environmental Program. In January 2007, he became a marine-mammal specialist for Earth Island Institute and director of the Save Japan Dolphins Campaign. On behalf of Earth Island Institute, O'Barry leads the international effort to stop the killing of dolphins in Japan, end the trafficking in live dolphins to theme parks and swim-with-dolphins programs, and speak out against the captivity industry. O'Barry is featured in the Academy Award–winning documentary The Cove, which brought to the world's attention the tragedy of dolphin slaughtering practices in Taiji, Japan. He has been involved in an international effort to publicize the film and, through it, to educate people everywhere about the largest mass killing of dolphins in the world, and the efforts to stop it. In 2010, O'Barry and his son, Lincoln, made Blood Dolphin$, a television series on Animal Planet and Planet Green, about O'Barry's efforts to protect dolphins from harm. Also in 2010, O'Barry was voted the Huffington Post's Green Game Changer and included in O Magazine's Power List. In 2011, he received Europe's prestigious BAMBI Award

The original edition of Behind the Dolphin Smile was published in 1988; a second book, To Free a Dolphin, also coauthored with Keith Coulbourn, was published in 2000. Both books are about O'Barry's work and his dedication. O'Barry and author Hans Peter Roth's new book, Die Bucht, about the actual cove in Japan and the making of The Cove, was published in Germany in 2010.

O'Barry is a Fellow National in the Explorers Club, a multidisciplinary society that links together scientists and explorers from all over the world. Each member is an accomplished individual with at least one fascinating story to tell. O'Barry lives with his wife, Helene, and their daughter, Mai Li, in South Miami, Florida, and in Ribe, Denmark.