Artist: David Rothenberg
Species: Homo conscious
Websites:
thousandmilesong.com
whybirdssing.com
survivalofthebeautiful.com
whaleofatime.org/davidrothenberg.php
davidrothenberg.net
davidrothenberg.wordpress.com
myspace.com/davidrothenbergs
Whale of a Time with David Rothenberg

David Rothenberg has written and performed on the relationship between humanity and nature for many years. He is the author of Why Birds Sing, on making music with birds, also published in England, Italy, Spain, Taiwan, China, Korea, and Germany. It was turned into a feature length BBC TV documentary. His most recent book, Thousand Mile Song, is on making music with whales. It is being developed into a film for the French television, hopefully to be broadcast worldwide. Other books include Sudden Music, Blue Cliff Record, Hand's End, and Always the Mountains. His next book, on the evolution of beauty, and how art and science can be better intertwined, is Survival of the Beautiful. It will be published by Bloomsbury Press in October, 2011.
Rothenberg is also a composer and jazz clarinetist, and he has nine CDs out under his own name, including On the Cliffs of the Heart, named one of the top ten CDs by Jazziz Magazine in 1995. Other recent releases include Why Birds Sing and Whale Music. Recently released is Whale Music Remixed, with contributions from noted electronic artists such as Scanner, DJ Spooky, Lukas Ligeti, Mira Calix, Ben Neill, and Robert Rich. His first CD on ECM Records, with pianist Marilyn Crispell, One Dark Night I Left My Silent House came out in May 2010.
Le Monde called it "une petite miracle." Svenske Dagbladet in Stockholm gave it six stars, its highest rating. The Guardian heard "the clarinet subtleties of Jimmy Giuffre and the tonal adventurousness of Joe Maneri." All About Jazz heard "sublime depth and intuition." Morgenbladet says we "make improvised music melodious and catchy." Sueddeutsche Zeitung praises our "wonderful craft and subtlety." BBC Music Magazine said "if these pieces were pre-composed they'd be categorised as chamber music of a high order."
The record was launched in the USA at Jazz at Lincoln Center in New York on June 22nd, 2010. It's now available on iTunes and Amazon.
In 2011 Rothenberg released three new CDs. The first, a duet with keyboardist Lewis Porter, is Expulsion of the Triumphant Beast. Next is a duet with British electronic music wizard Scanner, called You Can't Get There From Here. Back home in the Hudson Valley, Rothenberg produced a record of more popular music with his friends in Cold Spring, Painted Betty.
Rothenberg's recent conversation with Laurie Anderson on animals and music at the Explorers Club is online here.
Whale of a Time Events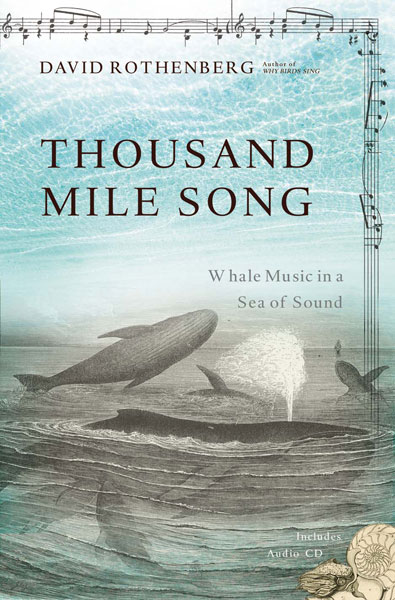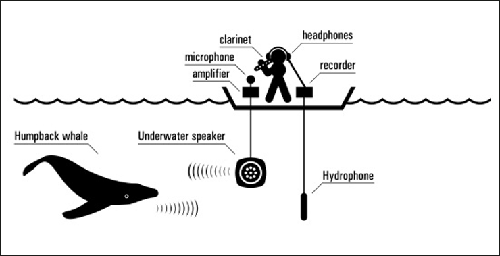 Listen to David Rothenberg playing with the whales ;)
Watch David Rothenberg playing with the whales ;)