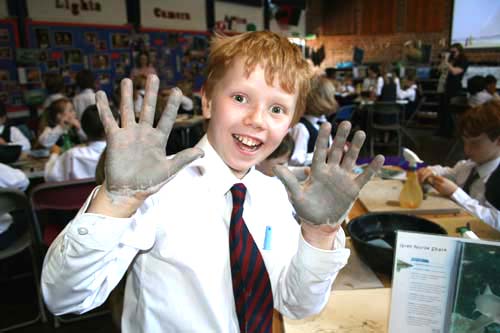 The Whale of a Time Workshop is a creative and educational event, where young and old are able to model whales and other endangered species out of clay and at the same time learn about the environment, biodiversity and sustainability whilst having a whale of a time!

Participants can not only explore their knowledge about endangered species but also have the opportunity to investigate ways we can actively change our behaviours towards a sustainable society with less impact on the environment and take steps to preserve endangered species and ecosystems whilst learning in a positive and fun atmosphere. The Whale of a Time website has links to everything you need to know on endangered species and sustainable living on our planet.

Book your event now and secure your date. Please send an email to get a quote.

Whale of a Time Workshops - March Whale Review
Hawthorns School, Redhill 2012

In March we had a Whale of a Time with pupils of all classes from Year 1 - 5 (5 - 10 years) at Hawthorns School in Redhill, Surrey. We organised the "Whale of a Time Day" for the whole school as part of their annual Science Week.

Jo Hill, Hawthorn School, Science Week Coordinator, "Thanks again for a fantastic day - I know all the kids had a great time."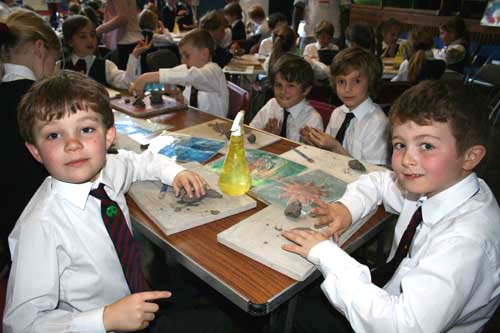 It was an absolute pleasure working with the pupils. We found it incredibly inspiring to see the kids' enthusiasm for nature and learning about their incredible knowledge on endangered species and ways we can help prevent species from becoming extinct. Even their parents joined in! We are very grateful and would like to thank all teachers for their great team work to make this day so special and successful.


Beam Parklands, Barking & Dagenham 2012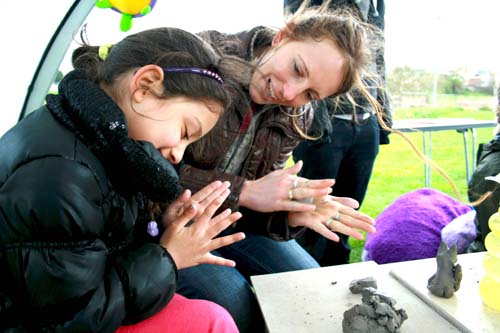 Our first outdoor event this year was at Barking & Dagenham's wetland conservation area at Beam Parklands. Local people joined to make clay models of species of the nature conservation area of Beam Parklands. Their artwork included British species such as owls, foxes, Mallards, Great Spotted Woodpecker, Stag Beatles, Millipedes, Bees, Slow Worms, Common Frogs and many other species. Despite the cold weather we had a wonderful time connecting local children with their precious local wildlife which is at the heart of our and Beam Parkland Community Ranger Ruth Claricoates' educational programme. This event was funded by the National Lottery and organised in partnership with Barking and Dagenham Council.

Organisers and Participants' Comments included:

Ruth Clarricoates, Beam Parklands Community Ranger commented, We had a fantastic day at Beam Parklands Country Park, out in the fresh air. Everyone loved getting their hands messy and were amazed at how many different and amazing animals live in the parklands so near to where they live.

Thank you for entertaining the children.

Good idea!

Thank you for the clay it was really fun! Cherie, 13, Shelly, 12, Leia, 10, Bailey, 9, Sarah-Rose, 10, Michael, 8.

Fired and Glazed Models Collection


We are thrilled to showcase our collection of fired and glazed models. Botz Glasuren sponsored NON-TOXIC Botz Ceramic Colours in support of Whale of a Time. Click on image to view enlarged images of fired and glazed models.



Click on image to enlarge Flying the Flags of Forest Gate Spring Festival - event flyer


Please view the Whale of a Time Gallery or read more about the Whale of a Time Workshop, read Whale Comments and our Whale Reviews. Keep up-to-date with the Whale Diary! Videos yet to come! - Stay tuned and get updates by subscribing to the Whale Mail! Whale News! Cyberstarlet - one of our Whale of a Time Artists posted poems on Cetaceans and Nature's Rights on her profile. - Find out ways to get involved in the Whale of a Time Community



Declaration of Cetaceans Rights

No life can measure what we have achieved
By whaling and slaughtering, so much to be grieved
It's time to support the Declaration of Rights for Cetaceans
Protect dolphins, whales and porpoises as "non-human persons"
Intelligent beings should have a legally enforceable right to life
How can anyone not support this glorious plight?

We have the same intelligence and we are self-aware
This is why we should all care
They recognise themselves in a mirror in a short blink
Lori Marino has found that dolphins also think
Whales are very clever – and they sing beautiful songs
Listen to David Rothenberg's interspecies communication
Try to sing along

But we also know cetaceans are suffering – something is wrong
They have chronic stress – shipping traffic is to blame
With military nuclear breaching – whales end up beaching
Whales and dolphins captured for Sea World tortures
Nature's intelligence - massacred in Taiji by ignorance
If you want to know more – watch "The Cove" and see all that gore
Japanese whaling in the name of research, whales are left in the lurch
It's irresponsible and only for business gain
Save beautiful beings like dolphins and whales
Stand up and fight for the Declaration of Cetaceans Rights

We know that when we disrespect and harm nature
We diminish ourselves and impoverish our future
"Mother Earth is a living being"
We're part of her indivisible breathing
Intrinsically interlinked complex ecosystems
We need them for resilience and our future existence
"All life forms have the right to exist"
That's what the Declaration insists

"A human right to life and dignity
Is meaningless without water and wilderness"
Remember, what your life means to you
And give back that love to our Earth Mother too
For cetaceans to thrive like you and me
I wrote this song for you to see
Imagine a world with peace and no crime
We could all be having a whale of a time!

Poem written by Cyberstarlet

Become a "Whale of a Time Artist" by joining the Whale of a Time Community and help raise awareness of our beautiful planet while having a whale of a time!

Become a "Friend of the Whale", stay tuned and subscribe to the Whale Mail!

Find out how to become a Whale of a Time Volunteer or support us through our Whale of a Time Sponsorship / Whale of a Time Funding Opportunities.




Make your voice heard by signing petitions such as Save the Rhinos!, Tsunami Relief: Help People Not Whalers, End Ocean Clear-Cuts, Save the Saddest Dolphins, Stop the Belo Monte Monster Dam in Brazil in the Amazon or support the Rights of Mother Earth and Save the Amazon. To see all petitions go to Get Involved.

Save the Rhinos!
The rhino is being hunted into extinction and could disappear forever unless we act now. Shocking new statistics show 440 rhinos were brutally killed last year in South Africa alone -- a massive increase on five years ago when just 13 had their horns hacked off. European nations could lead the world to a new plan to save these amazing creatures but they need to hear from us first!
Please sign rhino petition
Whale of a Time won the London region of the Future Friendly Awards 2011, the NHS Lambeth Community Wellbeing Competition 2010 and Making a Big Difference Award 2010, and was nominated for the London Peace Award 2010 and 2011, the Archant London Business Award 2010 and the Archant London Environmental Awards 2009.





Have a whale of a time! :)

Your Whale of a Time Community

020 8123 0325















To unsubscribe from the Whale Mail please send an email with the subject "unsubscribe" to whalemail@whaleofatime.org