Whale of a Time is the London region winner of the Future Friendly Awards 2011, which recognises great environmental efforts and community projects across the UK and Ireland. Due to amazing public support Whale of a Time topped in the popularity stakes getting more votes than any other nominated project.

We have recently been having a Whale of a Time at Gaunt's House Summer Gathering. View photos and comments in our August Review. We also filmed this event. Stay tuned workshop video coming soon!

Join us on our inspiring journey at past Whale of a Time Workshops in September. All at a glance in the Whale Diary!

In this Whale of a Time Review you will also have the opportunity do your bit and sign a petition to stop the Belo Monte Monster Dam in Brazil in the Amazon or for the Rights of Mother Earth and many other petitions.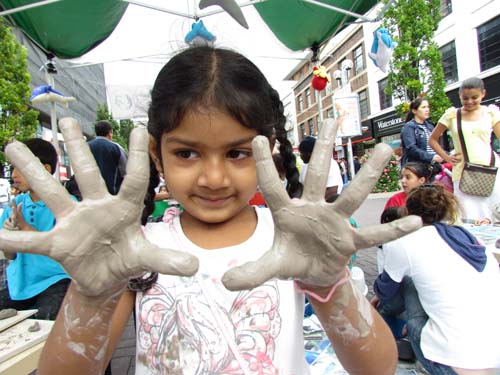 Redbridge Peace Concert
organised by Redbridge Carnival Association
24th September (Sat)
12pm to 6pm
Location:
@ Town Centre, Ilford IG1 1LX
Nearest Railway Station: Ilford Railway

View Google Map
Download Town Centre map (doc)
Wilson Chowdhry, Chairman of Redbridge Carnival Association organised an inspiring, multi-cultural and welcoming peace celebration in Ilford Town Centre for the local community. It's been a giggle and a wiggle with kids dancing on stage and hundred of children and families making clay models of endangered species expressing themselves to take care of our planet in the streets of Ilford. Unique of its kind there was also the inauguration of the first ever Peace Monument in the whole country in memory of victims of crime. It has been a great opportunity for Whale of a Time to provide the Whale of a Time Workshop for young and old to get involved in a peaceful and pro-active activity, which aims to promote sustainable living and community wellbeing whilst inspiring positive change.
Wilson Chowdhry commented, "The Whale of a Time Workshop is awesome. I've seen children busy here all day long, really enjoying themselves, using the fun, creative workshop that you provide to learn about endangered species, about the environment and that's exactly what we want at our Peace Concert - Children of all diversities sitting together, talking together, sharing that moment, spreading peace and love. Thank you again to Whale of a Time, I remember you from the Redbridge Carnival, you did awesome. It's been brilliant to have Whale of a Time in Redbridge. They have been at two events now, Redbridge Carnival and the Redbridge Peace Event. Without them it just wouldn't have been the same. I just hope to see them growing from strength to strength and continuing in the same way especially sharing the passion that they have shared with the people of Redbridge, with the wider London and UK community."
Irene Schleining, Founder Whale of a Time commented, "It's been really really amazing today here being at the Redbridge Peace Concert we've had lots of people coming by and participating, and our message is about taking care of our planet, appreciating nature and looking after it. Thank you to everybody who has joined us."
A mother said, "This whole activity just brought the child inside of me out. All my children are doing it and i'm the one who is enjoying it the most. It's absolutely brilliant. Activites where the parents can be involved should be done."
A girl (6) said, "The jungle is save for parots but (only) if they stop cutting down trees."
A mother said, "As the name (Whale of a Time) suggests, I think children have a very important role in this project. I think as they are making models, they are also thinking about animals who live in forests as they rightly said just now (while making their models). So as they are in the making of animals you can see their interest in this project as they are modeling animals out of clay. I think they are trying to conserve nature at the same time because their aspirations and their interest in making these models of an animal or a bird, or for a whale it shows their interest in nature itself because they are interested in conserving, making more clay animals. So I think it's important that today's generation has this awareness and i'm happy that this project has come around in Ilford. I think we should have more of these kinds. Well done for Whale of a Time. Good. Well done."
A mother said, "It's very creative and the kids learn more about everything. They do all mischief things and this is encouraging them to bring out their creativity from inside."
View photos of Whale of a Time at Redbridge Peace Concert 2011, London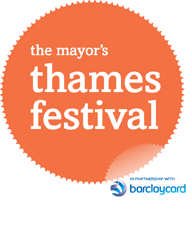 The Mayor's Thames Festival
10th September (Sat)
12pm to 7pm
Location:
@ Blue Ribbon Village, Potters Fields Park, SE1 2AA
We're next to City Hall
Nearest Tube / Railway: London Bridge
Download festival map - We are at no. 9
Download stalls & workshops pitch map
View Google Map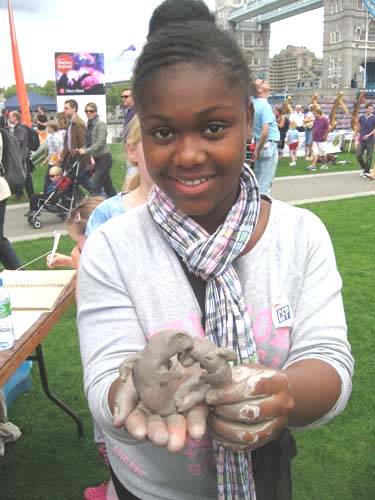 We did it again busy as ever, we had a "Whale of a Time" at the Mayor's Thames Festival! After our major success last year we are pleased to have returned organising the Whale of a Time Workshop at this year's Mayor's Thames Festival. Hundreds of people from all over London joined us modelling their favourite marine species in clay whilst learning about the threats and environmental impact in the oceans! Read last year's review.
Organiser's Comment included:
Ros Croker, Programme Manager Mayor's Thames Festival said, "Whale of a Time were a great addition to this year's Thames Festival, providing a popular, creative and fun workshop for both children and parents."
Irene Schleining, Founder Whale of a Time commented, "Whale of a Time was delighted to have been part of the Mayor's Thames Festival for the second year running after last year's great success. Young and old from all walks of life took the opportunity to create their personal models of endangered marine species in clay whilst exploring their knowledge about marine species."
Participants' comments included:
"Thank you very much for this! Your biggest fan!" Jessie
"We had a fantastic time! The staff members were very friendly!" Haje Elijah
"I had a great time and the staff helped me a lot. Thank you!"
View photos of Whale of a Time Workshop at Mayor's Thames Festival 2011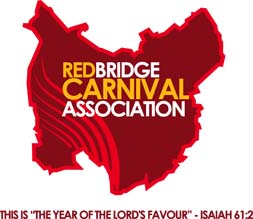 Redbridge Carnival
organised by Redbridge Carnival Association
10th - 11th September (Sat & Sun)
Saturday Workshop 12 pm to 7pm
Sunday Workshop 2 pm to 7 pm
Precession on Sunday 12 pm to 2 pm
Location:
@ Melbourne Road Entrance, Melbourne Fields, Valentines Park, Ilford Essex IG1 4SD
Nearest Railway: Ilford Rail - then 364 bus
View Google Map
View carnival procession route map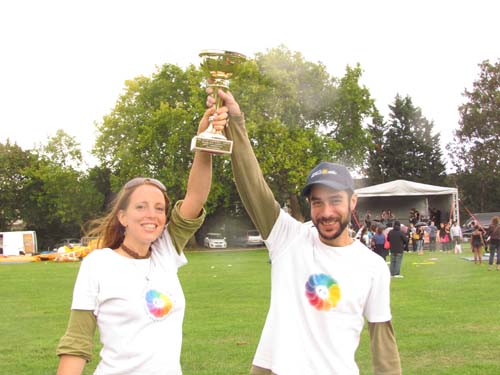 We are delighted to announce winning the category of best sustainable business / community organisation running the Whale of a Time Workshop for the local community at our first ever Redbridge Carnival. Our focus on community and preserving the environment is similar to theirs and we are pleased that our presence added a new dimension to an already successful event, whilst challenging local people to preserve our ecosystem.

Participants' comments included:
"A great way of subtly introducing children to the need to care for our endangered species. - Well done."
"Thank you, fantastic experience, very good tactile experience."
"Kids enjoyed and learnt about animals to take care of them. Thanks a lot." Noreen xxx
"Anushka (3 years) really loved handling the clay and making flowers which ended up as rabbits. Thank you."
"Thank you it was amazing. My bro and sis loved it too!! (12 years, 9, 8)
View photos of Whale of a Time Workshop at Redbridge Carnival 2011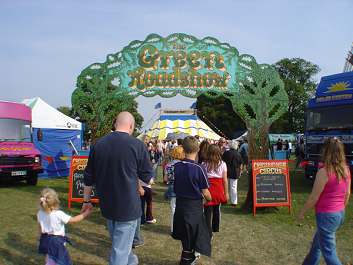 Abbey Green Fun Day
organised by Green Roadshow
2nd - 3rd September (Fri & Sat)
11am to 5pm
Location:
@ Barking Park, IG11 8TA - NEW VENUE!
Nearest Underground: Barking Station
View Google Map
We are proud to announce, that the Whale of a Time Workshop has been held for the first time ever at Abbey Green Fun Day, organised by the Green Roadshow.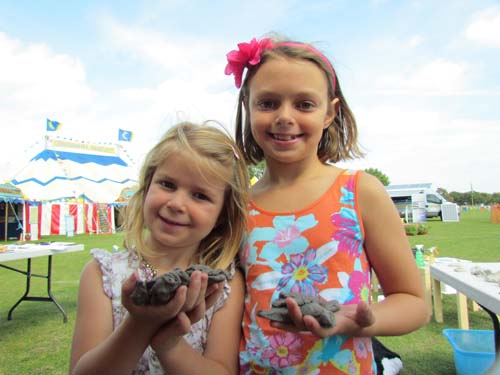 Plenty of entertainment with educational focus on sustainability and environmental awareness and lots of fun for the whole of the commumity - the Green Roadshow was certainly one of its kind that we'll remember for a long time! The Whale of a Time Workshop proved to be very popular amongst youngsters and adults joining in exploring the natural world modelling their favourite animal and plant species whilst learning about their threats and finding ways we can make a positive change.
Participants' Comments included:
"Very enjoyable and creative time!"
"Informative and fun!"
"Enjoyed the experience, it was the first time for my son and he enjoyed making a tiger. Thank you!"
"I really like it coz I love art!"
"I really enjoy it, it was really fun! I love animals!"
"Would love to join in again!"
View photos of Whale of a Time Workshop at Abbey Green Fun Day 2011

Whale of a Time won the London region of the Future Friendly Awards 2011, the NHS Lambeth Community Wellbeing Competition 2010 and Making a Big Difference Award 2010, and was nominated for the London Peace Award 2010 and 2011, the Archant London Business Award 2010 and the Archant London Environmental Awards 2009.
Find out more information about the Whale of a Time Workshop.
Watch photos and videos or read comments in our Whale of a Time Reviews.
Join Whale of a Time and get all your friends involved!
Please sign following petitions to change someone's life
Stop the Belo Monte Monster Dam!
"This is a tragic day for the Amazon," said Atossa Soltani, executive director of Amazon Watch.
São Paulo, Brazil – Brazil's environmental agency gave final approval on Wednesday for a giant hydroelectric power plant in the Amazon rain forest that has been at the center of a protracted battle between the government and environmentalists over the fate of indigenous people.
In partnership with the Global Alliance for Rights of Nature, Global Exchange has launched a global grassroots letter and signature campaign in support of Rights of Nature. Their vision is to engage 1,000,000 people in signing petitions or writing a letter to their President or head of state. They intend to have a delegation of young people deliver the letters to EarthSummit2012/Rio+20.
Please sign Rights For Mother Earth petition
The pod was swimming peacefully in the Solomon Islands when nets closed in from behind -- trapping 25 wild dolphins for a luxury resort's latest exhibit. They are now locked in tiny pens, starved of food -- but we can free them.
Please sign Dolphin petition
World to Dilma: Save the Amazon
The Amazon is in serious danger. The lower house of the Brazilian congress has approved a gutting of Brazil's forest protection laws. Unless we act now vast tracts of our planet's lungs could be opened up to clear cutting devastation.
Please sign Amazon petition
Become a "Friend of the Whale" by joining the Whale of a Time Community and help raise awareness of our beautiful planet while having a whale of a time!
Stay tuned and subscribe to the Whale Mail!
Have a whale of a time! :)
Your Whale of a Time Community
To unsubscribe from the Whale Mail please send an email with the subject "unsubscribe" to whalemail@whaleofatime.org