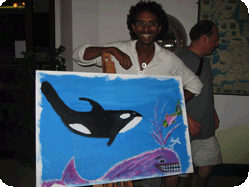 Irene Schleining, director of Whale of a TIme gave an inspiring talk raising awareness of endangered species due to human intervention, pollution, habitat destruction, and how we can change our consumer choices that have a huge effect on the state of the planet today.
Our Whale of a Time Artists gave an amazing performance engaging the audience with a talk about how to change the world by Michael Norton, elaborate musical study by David Rothenberg giving us an insight into the vast and scientifically yet unexplored subject of whale communication.
Easy was running the technical setup at the venue including playing uplifting music and adding to the beautiful atmosphere created during this afernoon of inspiring and heart-warming entertaining as well as educational event.
A huge thank you to the Insprial Lounge providing delicious organic food and helping to make this event a great success!
To see past events please view Whale of a Time Events Schedule.
To participate in Whale of a Time Events please call 0044 (0)20 8123 0325 or email us at community@whaleofatime.org