Whale of a Time Workshop Reviews
Our clay modelling workshops inspire children and adults. The relaxing atmosphere enables everyone to develop their creative voice and learn about endangered animal and plant species. Join us and find out what you can do to save endangered species. Read more about the Whale of a Time Workshop. The Whale of a Time Workshop is always busy and buzzing with hundreds of children, teenagers and adults.





June / July 2016

August / September 2015

July 2015

June 2015

October 2014

September 2014

July 2014

June 2014





September 2013

July 2013

May 2013

September 2012




Whale of a Time Partnerships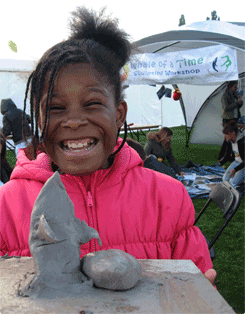 Whale of a Time has formed partnerships with Totally Thames and Barking Park End of Summer Party 2015, Lambeth Country Show 2015, Eastbrookend Country Fair 2015, Spooktacular at Eastbrookend Country Park 2014, Totally Thames 2014, The Lambeth Country Show 2014, Eastbrookend Country Fair 2014, The Mayor's Thames Festival 2013, Plaistow Summer Festival 2013, Leytonstone Big Weekender 2013, Green Roadshow 2013 at Barking Park, WhaleFest in Brighton & Hove, Lambeth Country Show 2013, Family Fun Day at Beam Parklands 2013, Plaistow Spring Festival 2013 in Newham, Furzedown Festival 2012, Redbridge Carnival 2012, Eastbrookend Country Fair 2012, Brixton Splash 2012, The Mayor's Thames Festival 2012, Lambeth Country Show 2012, Green Roadshow 2012, Little Big Peace Festival 2012, Flying the Flags for Forest Gate Spring Festival 2012, Whale of a Time at Beam Parklands Spring 2012, The Mayor's Thames Festival 2011, Redbridge Carnival 2011, Green Roadshow in Barking & Dagenham 2011, Redbridge Peace Concert 2011, National Living Seas Programme / Coastal Capers organised by the Norfolk Wildlife Trust during the National Marine Week, London Green Fair 2011, National Association of Gifted Children NAGC Explorers Club 2011, Gaunt's House Summer Gathering, The Mayor's Thames Festival 2010, Urban Green Fair, Lambeth Country Show, Streatham Festival, Poplar Festival and Stockwell Festival, Eco City Living at Barnard Park in Islington, Beam Parklands Community Launch 2011, Beam Parklands Community Event March 2012, Beam Parklands Community Events 2011, Petanque in the Park and UK festivals like the Green Gathering 2011, Green Man Festival, Waveform Festival, the Big Green Gathering, Sunrise Festival and the Glade Festival.

The Whale of a Time Workshop has also proven very suitable for children with special needs requirements working in with Lambeth Crossroads (Young Carers Youth Group).

Whale of a Time is proud to organise educational events at schools and engaging pupils with endangered species. We have been running events successfully at schools such as at Hawthorns School in Redhill, Surrey. We welcome participation of green or eco-schools.

Whale of a Time was the biggest family and kids attractions at the Sail Power and Watersports Show 2008 and Earl's Court Boat Show 2007 at London's Earl's Court Exhibition Centre, where hundreds of kids, parents and adults had the opportunity to explore the marine world by making models of endangered marine species whilst having a whale of a time!

Get a glimpse of the action of creativitiy and excitement happening by watching the Whale of a Time Workshop Video (click on image below).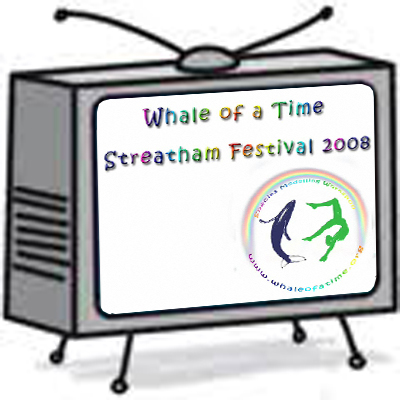 We feel that itís important to engage people with environmental issues in a fun and hands-on manner. During the Whale of a Time Workshop participants explore environmental issues we're facing today and learn about the impact on endangered species and ecosystems. Clay-modelling is therapeutic and the themes of endangered species inspire to find solutions on how we can contribute in a positive way to support our planet and community wellbeing. Read more...
Whale of a Time Festival Review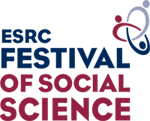 The first Whale of a Time Festival took place on 3 - 4 November 2012 at Birkbeck, University of London as part of the ESRC Festival of Social Science. Read the festival programme and our review... Listen to the ESRC festival podcast, read what the experts had to say and find links to their presentations in the Whale of a Time Community and much more... Whale of a Time won the London region of the Future Friendly Awards 2011, the NHS Lambeth Community Wellbeing Competition 2010 and Making a Big Difference Award 2010, and was nominated for the London Peace Award 2010 and 2011, the Archant London Business Award 2010 and the Archant London Environmental Awards 2009.




Have a whale of a time! :)

Your Whale of a Time Community