7th July 2013
11:00 - 15:00 pm



Family Fun Day at Beam Parklands
Working in Partnership with Barking & Dagenham Community Rangers
@ Beam Parklands, The Leys (Park, Wetland site), near Ballards Road, London, RM10 9QH
Closest Tube Station: Dagenham East

Google Map
Wetland Map (pdf)
Pitch Map (jpg)
Event Flyer (pdf)
Whale Mail


A fun filled day at Beam Parklands to celebrate our 2nd birthday and experience a perfect summer's day out with family and friends.

There were plenty of free activities to choose from including Whale of a Time Clay Modelling Workshop, Punch and Judy shows, Brazilian Drumming, Parkour, Face Painting, Birds of Prey, Reptile Exhibitors, Bouncy Castle and much much more. Free fun for all the family. Thank you for joining us!

It was a hot sunny day, with lots of activities for the children. There were a steady stream of children in the Whale of a time tent making snakes and butterflies. There was one tent where you could hold a snake and another where you could build your own bird box. One particpant came with his grandad and made a model of a barn owl as he liked birds and is a RSPCA Junior. One creative Mum made a model of an elephant.
Fun was had by all. The Whale of a Time Team did a great job and the day was huge sucess!

Written by Maja Dawson, Whale of a Time Workshop Leader

Organiser's and Particiants' comments:

"Many thanks to your team for attending the event at the weekend.  It was an absolute pleasure to have whale of a time there.  As always the workshops proved extremely popular and a fun time was had by all.  The friendly, professional and approachable staff are an asset to whale of a time. The children who attended the event had a whale of a time, as did myself and the fellow rangers! Many thanks!" commented, Loretta Hoy, Beam Parklands Community Ranger, Parks and Environmental Design, London Borough of Barking and Dagenham (organiser)

"Thank you for offering me volunteer opportunity, I really did enjoy the time today with new friends and excellent experience. Everything today was just fantastic successful, that kids were learning and spending great time in our tent. LOL", commented Yili Fu, Whale of a Time Volunteer

"Irene does this skill amazingly, with a thorough and professional approach in every aspect", commented Andy Hunter, Green Roadshow

"The event was amazing, because of the surrounding , because of the curiosity of the children, and also because we worked well as a team. I really enjoyed clay modelling with the children, and I think that it is a very good idea to encourage children to protect animals in a creative way...The leaders of the group did a fantastic job, and because of their dedication, I have greatly appreciated the whole experience. My only regret is that the event had an end....Overall, I have really enjoyed my time with the whale of a Time team", commented Welly Edjenguele, Whale of a Time Volunteer

Read more comments...

21st July 2013
12pm - 3:30pm



Lambeth Country Show
@ Brockwell Park, Norwood Road, SE24 9BJ
Whale of a Time at Cultivate Tent
Nearest Railway Station: Herne Hill
Nearest Underground: Brixton Station

Show Map (pdf)
Google Map
How to get there?
Whale Mail
Review 2012


Thank you for joining us on Sunday 21st July at the Lambeth Country Show.

On this sunny and hot day, participants were making their favourite endangered rainforest species in clay at the Whale of a Time Workshop. People created monkeys, elephants, frogs and toads and many more beautiful animals of the jungle. Children and adults staying for hours being inspired by the natural world.

Organiser's and Participants' comments:

Venetia Harpin, Events Officer, Lambeth Events Service, commented, "Whale of a Time once again to be a very popular workshop in the Cultivate Zone at this year's Lambeth Country Show. It was great that they were so organised, with plenty of helpers on hand. By the end of the afternoon we had tables and tables of wonderful animals!"

Yili Fu, Whale of a Time Volunteer, commented, "The event on 21st July was really as great as before, and I also met both old friends and new friends. Our workshop successfully attracted both children and adult to create clay model. Everything is just perfect, children, parents, young people and staffs were all enjoying the time and sunshine."

Welly Edjenguele, Whale of a Time Volunteer commented, "I have really enjoyed volunteering with you during the Lambeth country show. The event gave us the occasion to be surrounded by more children. It was fantastic to help them shape their favourite animals... I have greatly enjoy working with the new team. I believe we were all happy to share whale of a time ideas about endangered species."

Read more comments...
Whale of a Time Review - May 2013
We had a whale of a time! The Plaistow Spring Festival was well organised and a great success with hundreds of children and families from the local community learning about today's most pressing environmintel issues, expressing their creativity and relaxing whilst modelling their favourite endangered species during the educational, creative and therapeutic Whale of a Time Workshop. Newham Major Sir Robin Wales also had a whale of a time making his unique endangered species in clay!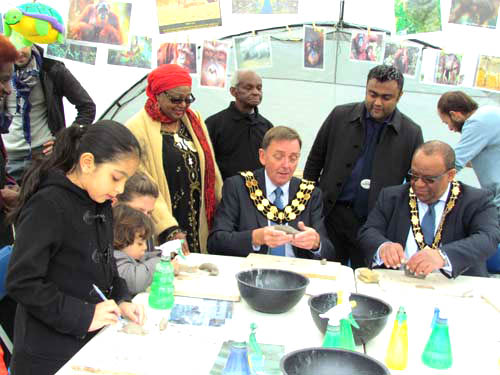 Syed Haque, Community Leaders and Engagement Manager, Strategic Commissioning and Community Directorate, London Borough of Newham commented, "Community Lead Councillor Forhad Hussain lead the Plaistow Community Hub event at Plaistow Primary School. Over 1500 families and residents attended the fun packed day. Newham Council is dedicated to working and communities groups and residents to deliver fun free events, run and organised by residents. Activities included a rapping workshop, talents show, Zumba taster sessions, 'Whale of a Time' clay modelling, which was by far one of the most popular intergenerational activities at the event."
Read full Whale Review

Whale of a Time Gallery - Plaistow Spring Festival 2013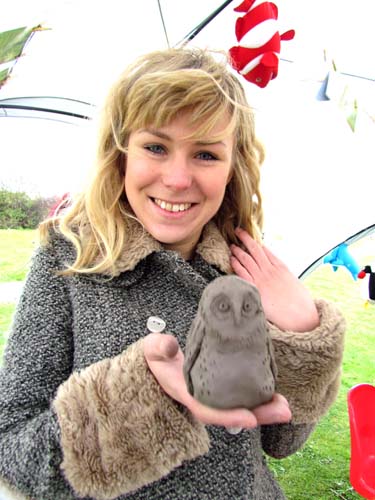 | | |
| --- | --- |
| The Whale of a Time Workshop is an educational, therapeutic, hands-on and fun activity, where young and old are able to model whales and other endangered species out of clay, and at the same time nurture creative skills, confidence and team bonding whilst raising awareness and learning about the environment, biodiversity and sustainability and having a whale of a time! | |





All artwork is displayed in the Whale of a Time Gallery during the events and online

Sponsor the Whale of a Time Workshop or get involved by becoming a Whale of a Time Volunteer and be part of the wave of change for a new awareness of the Earth! A creative platform for social and sustainable inspirations and community evolution. If you would like to join the Whale of a Time Community send us an email. Geraldine Simmons, AFC
Wildlife Artist for Conservation
Whale of a Time Artist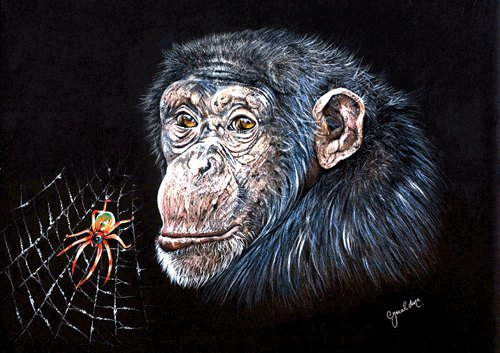 Chimp and Spider
£600 (60% donations / 40% artist)
Dimensions: 84 cm x 60 cm

Geraldine Simmons joined the Whale of a Time Community of environmentally conscious artists raising awareness of endangered species through capturing the beauty in nature and inspiring others to take care of our planet.

Geraldine says, "I am so grateful for the magnificent wildlife that graces our world that inspires me to draw from my soul. I have been drawing and painting wildlife for more than 20 years where many of my works have been selected for exhibitions by invitation for animal protection campaigns. The purpose of my art is to communicate that the world's animals are not just mere commodities; to be exploited, used or forgotten."

If you would like to purchase Geraldine Simmons' print "Chimp and a Spider", please send us an email.

We have more artwork available! View slide show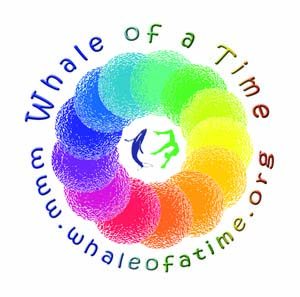 Limited Edition Whale of a Time CD - available for sale!

Whale of a Time CD featuring 8 Whale of a Time Musicians from the Whale of a Time Community. £8 including postage. All proceeds go towards Whale of a Time.
All tracks kindly donated by Whale Of A Time Artists and CD sponsored by XpressDuplication.co.uk

Click on player to listen to tracks and to view enlarged CD cover



1. Earth Meditation - World Healing Project
2. Tvameva - Sudha and Maneesh de Moor


3. Flor India - Herbert Quinteros Flores


4. Chirapaq by Tribus del Sol, (Sixto Aybar)
5. Paper Tigers by The Morrighan
6. KAME Candle in the sand by Emily Burridge
7. Tree of Life by The Human Revolution
8. Never Satisfied by David Rothenberg


Whale of a Time Tweets
Whale of a Time Blog
Make the Mau Dolphin the National Symbol of New Zealand
Save the Maui's and Hector's Dolphin from extinction and make the Maui's and Hector's Dolphins the National Symbol of New Zealand.
Because t he NZ government and the NZ fishing industry does not support them, they need your voice!

Please sign this petition and pass it on to all your friends. We must get as many signatures as possible to turn the tide.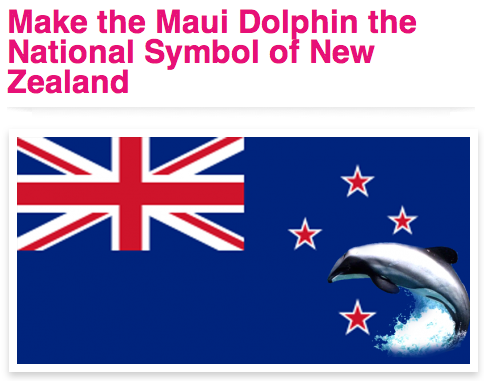 Things you can do for the Earth...

Stay tuned and become a "Friend of the Whale" and subscribe to the Whale Mail!




Have a whale of a time! :)

Your Whale of a Time Community

Email: info@whaleofatime.org

Tel: 020 8123 0325











To unsubscribe from the Whale Mail please send an email with the subject "unsubscribe" to info@whaleofatime.org