Plaistow Spring Festival 2013

18th May 2013
Plaistow Spring Festival
12:00 - 16:00 pm

@ Plaistow Primary School, Junction Road, Plaistow, E13 9DQ
Closest Railway Station: Plaistow or Upton Park Underground Station

A FREE fun festival for all the family celebrating the very best of Plaistow with the Whale of a Time Workshop, live music, theatre, dance, fashion and much more.

We had a whale of a time! The Plaistow Spring Festival was well organised and a great success with hundreds of children and families from the local community learning about today's most pressing environmintel issues, expressing their creativity and relaxing whilst modelling their favourite endangered species during the educational, creative and therapeutic Whale of a Time Workshop. Newham Major Sir Robin Wales also had a whale of a time making his unique endangered species in clay!





Syed Haque, Community Leaders and Engagement Manager, Strategic Commissioning and Community Directorate, London Borough of Newham commented, "Community Lead Councillor Forhad Hussain lead the Plaistow Community Hub event at Plaistow Primary School. Over 1500 families and residents attended the fun packed day. Newham Council is dedicated to working and communities groups and residents to deliver fun free events, run and organised by residents. Activities included a rapping workshop, talents show, Zumba taster sessions, 'Whale of a Time' clay modelling, which was by far one of the most popular intergenerational activities at the event."

Read more comments...



Whale of a Time Gallery - Plaistow Spring Festival 2013


Download flyer
Programme
Festival Site Map
Google Map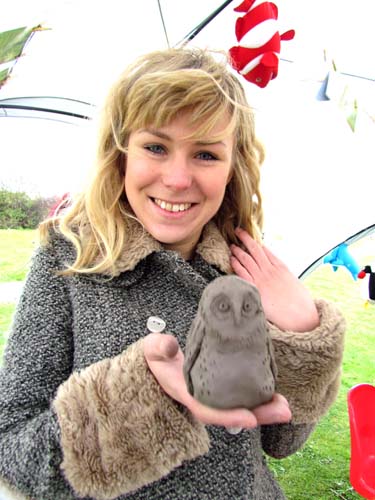 | | |
| --- | --- |
| The Whale of a Time Workshop is an educational, therapeutic, hands-on and fun activity, where young and old are able to model whales and other endangered species out of clay, and at the same time nurture creative skills, confidence and team bonding whilst raising awareness and learning about the environment, biodiversity and sustainability and having a whale of a time! | |





All artwork is displayed in the Whale of a Time Gallery during the events and online

Get involved by becoming a Whale of a Time Volunteer or support the needed wave of sustainable change by sponsoring Whale of a Time.






Whale of a Time Artists - Art available on sale!
If you didn't get a chance to buy any Whale of a Time Art or the Whale of a Time CD at the ESRC Whale of a Time Festival of Social Science 2012, here is your chance to buy your favourite artwork now. If you are interested please send us an email.


Limited Edition Whale of a Time CD - available on sale!
8 Tracks from selected Whale of a Time Musicians available for suggested donation of £8 plus £2 postage.

Click on image to view enlarged CD design


All tracks kindly donated for use on this CD by Whale Of A Time Artists
All proceeds go towards supporting Whale Of A Time
The CD Duplication is kindly sponsored by XpressDuplication.co.uk

The purpose of the CD is to promote Whale of a Time Musicians and raise their profile through the Whale of a Time Community - a creative platform for social and environmental inspirations and community evolution.





Be the Voice of the Last Remaining Sumatras Tigers, Elephants, Rinos and Orangutans!
Because they can't speak, they need your voice!

Please sign this petition and pass it on to all your friends. We must get as many people as possible to turn this catastrophy over.


Aceh is preparing to open over 1.2 million hectares of protected forest for the development of mines, plantations, roads, logging and palm oil expansion.

The last of Sumatras Tigers, Elephants, Rinos and Orangutans will be surely pushed to extinction!

This has been confirmed by The Chairman of the Aceh Parliament's spatial planning committee, Mr Anwar, who told the Sydney Morning Herald that the proposed plan would reduce the total forest cover of Aceh from its existing coverage of about 68 per cent of Aceh's total land area, to just 45 per cent, representing the destruction of more than 1.2 million hectares, including the entire area known as Tripa, and other currently protected areas inside of the Leuser Ecosystem, a National Strategic Area for its Environmental Protection Function that is protected by National Spatial Planning Law 26/2007, and Government Regulation 26/2008.

This planned destruction is the result of a 'prefect storm' of planning failures. Firstly, the end of the 'Norway Moratorium on Primary Forests, secondly the end of the former Governor of Aceh, 'Irwandis Moritorium on logging' addressed by Mr Anwar in his interview with the Sydney Morning Herald on Jan 15, 2013 ''The nature of the logging moratorium is that it's temporary, so it can be revoked any time,'' and these two events, combined with huge planned changes in 'forest function' meaning, areas previously protected for their natural ecological services, such as preventing land slides and floods, will now be opened as mines, plantations, roads, logging and palm oil expansion. Alarmingly, areas that previously held the protected status of 'wildlife corridor' are being planned to become 'community plantation' which is set to escalate human wildlife conflict as the last of Sumatras Tigers, Elephants, Rinos and Orangutans will be surely pushed to extinction.

The petition is asking the Governor, and Vice Governor of Aceh, Zaini and Muzakir to reconsider pushing such destruction onto their province, and to ask the donor representatives of the world, who have invested so much already to the protection of Acehs forests, to assist with the funding and technical support for the Aceh Government to revisit and revise this potential disaster.

Read more, sign this petition and pass it on to your network!

8 Things you can do to stop rainforest destruction...

Stay tuned and become a "Friend of the Whale" and subscribe to the Whale Mail!




Have a whale of a time! :)

Your Whale of a Time Community

Email: info@whaleofatime.org

Tel: 020 8123 0325











To unsubscribe from the Whale Mail please send an email with the subject "unsubscribe" to info@whaleofatime.org