The Mayor's Thames Festival 2013

14th-15th Sept 2013
12:00 - 18:00 pm

The Mayor's Thames Festival
@ Blue Ribbon Village, Potters Fields Park, near Tooley Street or City Hall, SE1 2AA
Nearest Underground: London Bridge

Whale Review 13
Whale Gallery 13
Whale Review 12
Whale Gallery 12
Whale Review 11
Whale Gallery 11
Whale Review 10
Whale Gallery 10
Google Map
Location map


London, UK (6 to 15 September 2013): The Mayor's Thames Festival underwent an exciting transformation this year, staging a 10-day celebration of the river through inspiring events on the water and along its banks and bridges.

After previous years of our huge success running the Whale of a Time Workshop at the Thames Festival, Whale of a Time has been providing its fun, creative and educational workshop as part of Europe's largest free outdoor festival again this year! The Whale of a Time Workshop has attracted in the past hundreds of children and as previously has been one of the most popular activities for families, young and old.

As always The Mayor's Thames Festival has been an incredibly inspiring events for all of us. We had many young people and parents joining in through-out the weekend with approximately 900 participants on both days. The location in the grass area was fantastic and the large tent became a wonderful oasis for artistic outlet and education attracting participants from all directions who enjoyed having their photos taken with their masterpieces in front of Tower Bridge.

Thank you for joining us and making your favourite endangered species in clay. So much was learnt and people carrying their clay models of their favourite endangered species home across the river Thames with inspirations to live a sustainable lifestyle.

Spread the message and get all your friends involved and have a whale of a time!

Organiser's, Volunteers and Participants Comments included:



Tiphaine, Thames Festival, commented, "An absolutely brilliant way to spend an afternoon by the Thames, come rain or shine. Thank you Whale of a Time for inspiring children to take an interest in our fellow creatures, whilst making beautiful clay sculptures at the same time. We loved having you at the Thames Festival for a fourth year running. Thank you!"



Stef, RSPB, Greater Thames, commented, "Lovely to meet you! What a great idea - fun and educational! Look forward to possibly working with you."

Una, Thames Festival Publicity - "Thanks for the whale! What a fantastic workshop! I love it."

"I had such an amazing time at Whale of a Time, Thames Festival! I met some incredible inspiring people and will carry on to make a difference to our planet a better place to live", commented Thimedi, Whale of a Time Volunteer

"I had a really lovely time and enjoyed sharing my art skills with others. A memorable experience which has inspired me to carry on being creative", commented Rebecca Lee, Whale of a Time Volunteer "I'd like whale of a time should have a base. You should do parties and have coffee, advertise at schools. We need to be kinder to the environment! don't throw away plastic bags, cruise ships need to stop throwing their garbage on the other side, stop cutting down trees! Thank you!"



"We should be watching what we buy, get fair trade products, making sure I don't buy products from far away places, recycling as much as possible."

"Stop killing the orang-utans, cutting down their homes."

"I really recommend to come back again!"

"Fantastic opportunity! My children loved creating some amazing clay animals. Thank you!"

"Great workshop, never seen so much excitement for endangered animals. Keep it up!"

"Our first clay modelling experience with lovely encouraging people to help."

"This is such an awesome idea! Me and my boyfriend had lots of fun making our elephants and we also became aware of the many endangered animals" xxx

"Please come back again next year! The kids loved it." Kim

"Excellent, my daughter came back two days running! She loved it. So did i. Great fun and very educational too. A good combination of both. It made learning fun! Thank you! Please return next year!" Rene and Alicia Dexa

"Great activity for a good cause! What's not to like?" Phil

"No more orcas in captivity!" Michelen

Read more comments...


Plaistow Summer Festival 2013


The Plaistow Summer Festival attracted over 2700 visitors to the free community fun day. Newham Council community events programmes are open to all and to are laid on free to inform residents about local organisations and council initiatives, in a fun and creative way. Plaistow Community Lead Councillor Forhad Hussain along with the ward councillors faciliate all the Active Community Team events that take place across Plaistow.

Councillor Forhad Hussain said: "Its great to see so many residents and community groups of different backgrounds coming together to enjoy themselves and find a common ground. We will continue to organise such events to develop cohesion and resilience within our diverse Plaistow community"

Syed Haque, Community Leaders and Engagement Manager, Strategic Commissioning and Community Directorate, London Borough of Newham, commented, "Once again 'Whale of A Time' ran their fun and interactive workshop sessions, and as always very popular with Newham residents."

If you are a local commmunity group or Newham resident who wishes to take advantage of Newham's small grants scheme please contact Syed Haque on 0203 373 1540 or email syed.haque@newham.gov.uk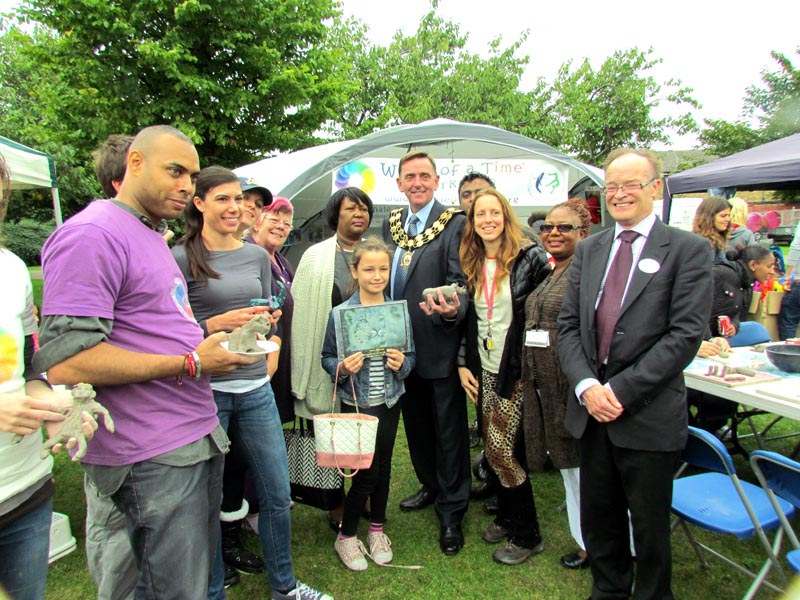 Whale of a Time is excited to be part of the Plaistow Festival for the second time this year. Also the Mayor of Newham Sir Robin Wales was very pleased to join us (see photo above).

Whale of a Time was a great success again with hundreds of children and families making their favourite endangered species in clay. The event was well organised and fantastic to see the local community joining together and enjoy the great entertainment whilst having a whale of a time! We are looking forward to be part of these wonderful community events again next year!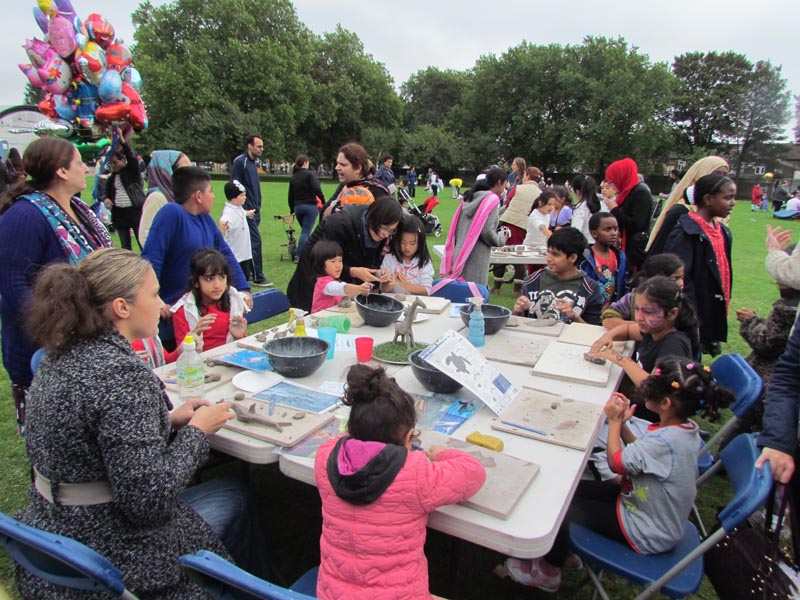 Volunteers and Participants Comments included:

"Excellent work by the workshop to make us aware of the problems." Busha xxx

Yurate "This is a lovely creative event, to bring awareness of the environment. Keep on!" xxx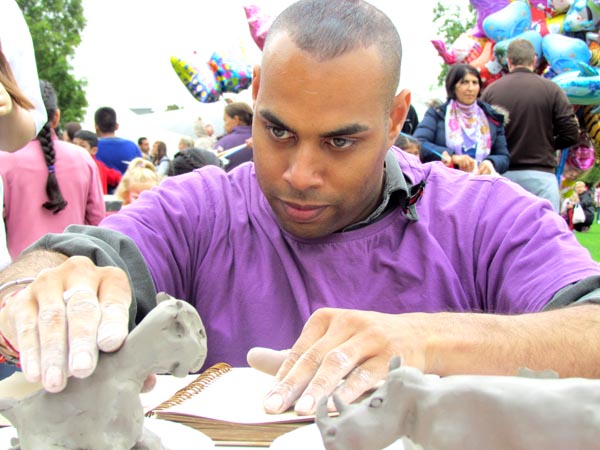 Sara - "I really enjoyed it as never have time to do something creative."

Lara, age 7 - "Help to protect the animals' homes and recycle!"

Read more comments...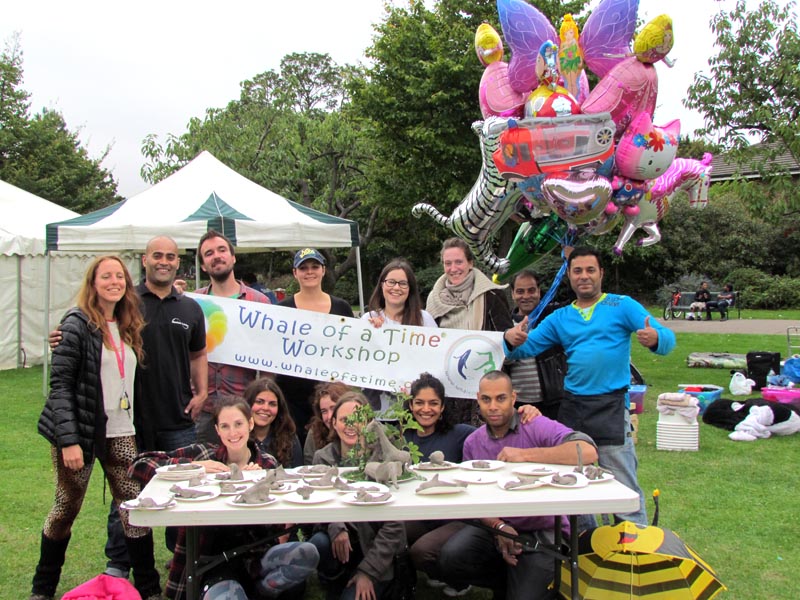 Leytonstone Big Weekender 2013

7th Sept 2013
12:00 am - 16:00 pm



Whale of a Time at Leytonstone Big Weekender / Arts Trail Day
@ Cathall Green, Cathall Road, off Holydown Way, E11 4DD Opposite skills center (yellow building)
Nearest Underground: Leytonstone or Leyton
Nearest bus stop – W14 from Leytonstone tube station stops directly outside the park (Hollydown Way). Nearest Overground is Leytonstone High Road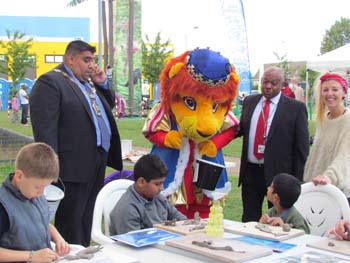 First time Whale of a Time at the Leytonstone Big Weekender / Arts Trail Day! This green themed fun weekend was packed with arts, culture and live music! The Mayor of Waltham Forest Sir Nadeem Ali joined us in the Whale of a Time Workshop and expressed his support of our educational and creative workshop for the community and the enviroment.

Flukes up to all those wonderful people who joined us in this unique opportunity to get involved in the Leytonstone Big Weekender and get creative at the Whale of a Time Workshop and learn about today's most pressing environmental issues and sustainability by making a clay model of your favourite endangered species!

Organiser's Comment included:

"Thank you for your part in making the Waltham Forest 'Big Weekender' event at Cathall park on 7 September such a memorable occasion for our local community", commented Margaret Agana Community Development Arts Officer, Waltham Forest Council.

Participants Comments included: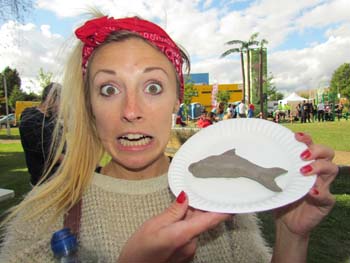 "Wish you the best of luck!" Mayor of Waltham Forest

"Lovely idea for a family outing! Thank you!" Sandra

"Fantastic workshop. Lovely people! Many thanks!" Sam

"Had a great time today, enjoyed every minute of it. Had fun with the clay and chilcren. Love to do it again sometime." Riswan Haji, Whale of a Time Volunteer

"Grace Price age 6 1/2, had a lovely messy time making a jellyfish mummy, however also enjoyed making a mushroom! Better still we get to take it home as a treaure! Thank you!"

"This day was lovely! I really had a whale of a time! I loved modelling with clay all those lovely animals!" Carlos Asensio, Whale of a Time Volunteer

"Sarah made a harper seal and a lion! (Roar!) Thank you for a fun day!"

"What a lovely idea. My son made a platterperson and I made a seahorse. Thank you!" Alison P.

Read more comments...



Green Roadshow 2013

7th - 8th Sept 2013
11:00 am - 17:00 pm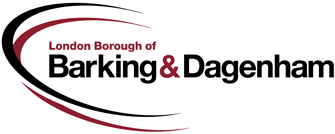 Green Roadshow in Barking & Dagenham
@ Barking Park, IG11 8TA
Nearest Underground: Barking Station
Whale Review 13 Whale Gallery 13 Whale Review 12
Whale Gallery 12
Google Map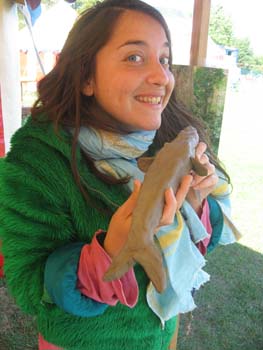 We are proud to have been part of the Green Roadshow at Barking Park again.

Plenty of entertainment with educational focus on sustainability and environmental awareness and lots of fun for the whole of the commumity - the Green Roadshow as always provided unique educational entertainment for the whole family and of course the Whale of a Time Workshop was as popular amongst youngsters and adults as always! Thank you for joining us and expressing yourself about nature by making your unique models of endangered species! Please view photos in the Whale of a Time Gallery. Have a whale of a time!

Organiser's Comments included:

Andy Hope, Green Roadshow organiser commented, "Once again it was wonderful to have you all along - your enthusiasm and commitment to educating the kids about marine life is refreshing and just what the planet needs."

Participants Comments included:

"It was very informative and a very good way to et your message out!" Loraine

"Brilliant fun and a good way for the children to learn about animals." "It was super fun!"

"I love making a lot of things trying new things and I come every year and I love it." Veronica

"I love making stuff out of clay. I made a star and it was really fun! I would love to come here next year!"

"I made a dog out of clay."

"I made a tortoise and it was really really good."

"I did a Mayi Dolphin and it looked really good and I worked really hard to achieve it and I will help the Maui Dolphins by donting!"

"I did a lizard. It's really nice."

"I think that it isvery fun and educational!"

"Thank you for letting me do this!"

"It is fun!" Holly

Read more comments...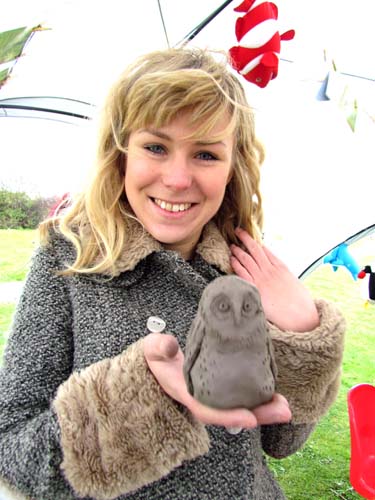 | | |
| --- | --- |
| The Whale of a Time Workshop is an educational, therapeutic, hands-on and fun activity, where young and old are able to model whales and other endangered species out of clay, and at the same time nurture creative skills, confidence and team bonding whilst raising awareness and learning about the environment, biodiversity and sustainability and having a whale of a time! | |





All artwork is displayed in the Whale of a Time Gallery during the events and online

Sponsor the Whale of a Time Workshop or get involved by becoming a Whale of a Time Volunteer and be part of the wave of change for a new awareness of the Earth! A creative platform for social and sustainable inspirations and community evolution. If you would like to join the Whale of a Time Community send us an email. Geraldine Simmons, AFC
Wildlife Artist for Conservation
Whale of a Time Artist

No Trees, No Me
Offert to best offer! (60% donations / 40% artist)
Dimensions: 1000 x 750mm

One of Geri's most profound and awe-inspiring experiences was traveling to the remote areas of Indonesia to witness the orangutans – our closest cousins, in their natural habitat in the deep jungles of Borneo. As a witness and intent observer of their behavior, seeing how they survive in their environment helped her appreciate their great intelligence, adaptability and resilience. Some things made her laugh and some things made her cry and since that trip she has brought home a lasting impression that she aspires to portray in all of her works of art."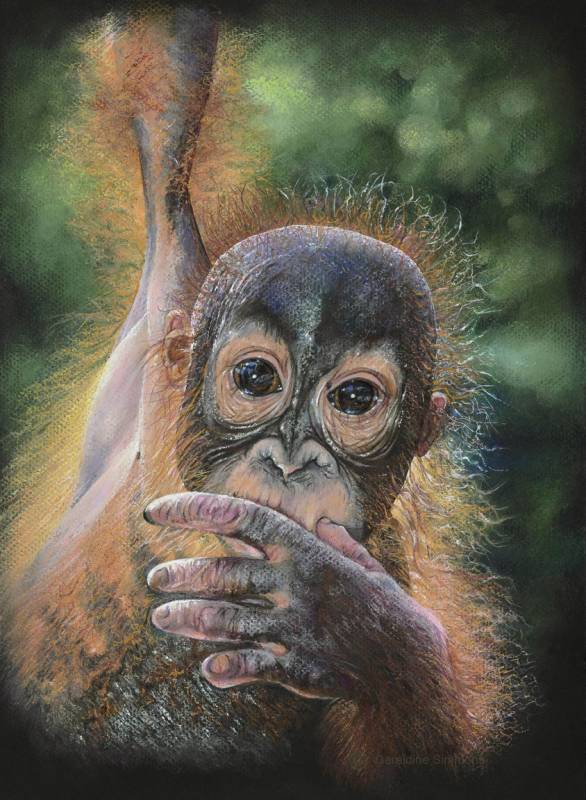 This print was selected for the "2012 Artists For Conservation" exhibition and hard cover book. This amazing wildlife artwork is available for sale! Please contact us to make an offer! Donations go to Whale of a Time to support the growing wave of change that it is needed today in raising awareness of the plight of rainforests and related environmental issues.

If you would like to purchase Geraldine Simmons' print "No Tree, No Me", please send us an email.

We have more artwork available! View slide show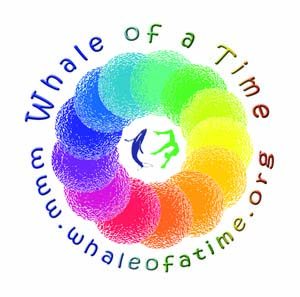 Limited Edition Whale of a Time CD - available for sale!

Whale of a Time CD featuring 8 Whale of a Time Musicians from the Whale of a Time Community. £8 including postage. All proceeds go towards Whale of a Time.
All tracks kindly donated by Whale Of A Time Artists and CD sponsored by XpressDuplication.co.uk

Click on player to listen to tracks and to view enlarged CD cover



1. Earth Meditation - World Healing Project
2. Tvameva - Sudha and Maneesh de Moor


3. Flor India - Herbert Quinteros Flores


4. Chirapaq by Tribus del Sol, (Sixto Aybar)
5. Paper Tigers by The Morrighan
6. KAME Candle in the sand by Emily Burridge
7. Tree of Life by The Human Revolution
8. Never Satisfied by David Rothenberg


To: President Vuk Jeremi?, President of United Nations General Assembly (UNGA/GA)

Thousands of marine lives are lost. Two dolphin and porpoise species are on the brink of extinction including the New Zealand's Mau and Hector's Dolphins as well as the Vaquita living in the Gulf of California. Mile-long driftnets are used to capture swordfish and thresher sharks. But that's not all they catch. When the nets are deployed in the evenings to soak overnight to ensnare their targeted catch, they also entangle large open ocean travelers like whales. Thousands of seaturtles die in gillnets each year. We must ban gillnets world-wide. Please be the voice for thousands of marine species. Big whale thanks!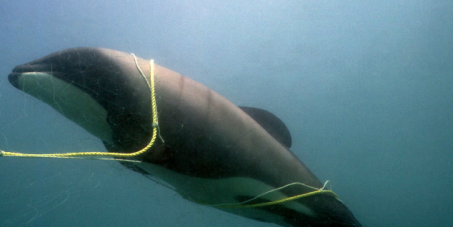 Please sign this petition and pass it on to all your friends. We must get as many signatures as possible to turn the tide.

Sign more petitions

Sign Now for the Maui Dolphins in New Zealand

Sign Now for the Orangutans in Indonesia

Sign Now for the Sharks

Sign Now for the Bears in China

View more petitions and like Whale of a Time on Facebook



Whale of a Time Tweets







Whale of a Time Blog






Things you can do for the Earth...

Stay tuned and become a "Friend of the Whale" and subscribe to the Whale Mail!




Have a whale of a time! :)

Your Whale of a Time Community

Email: info@whaleofatime.org

Tel: 020 8123 0325











To unsubscribe from the Whale Mail please send an email with the subject "unsubscribe" to info@whaleofatime.org