June 2011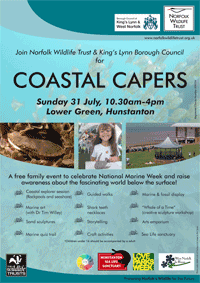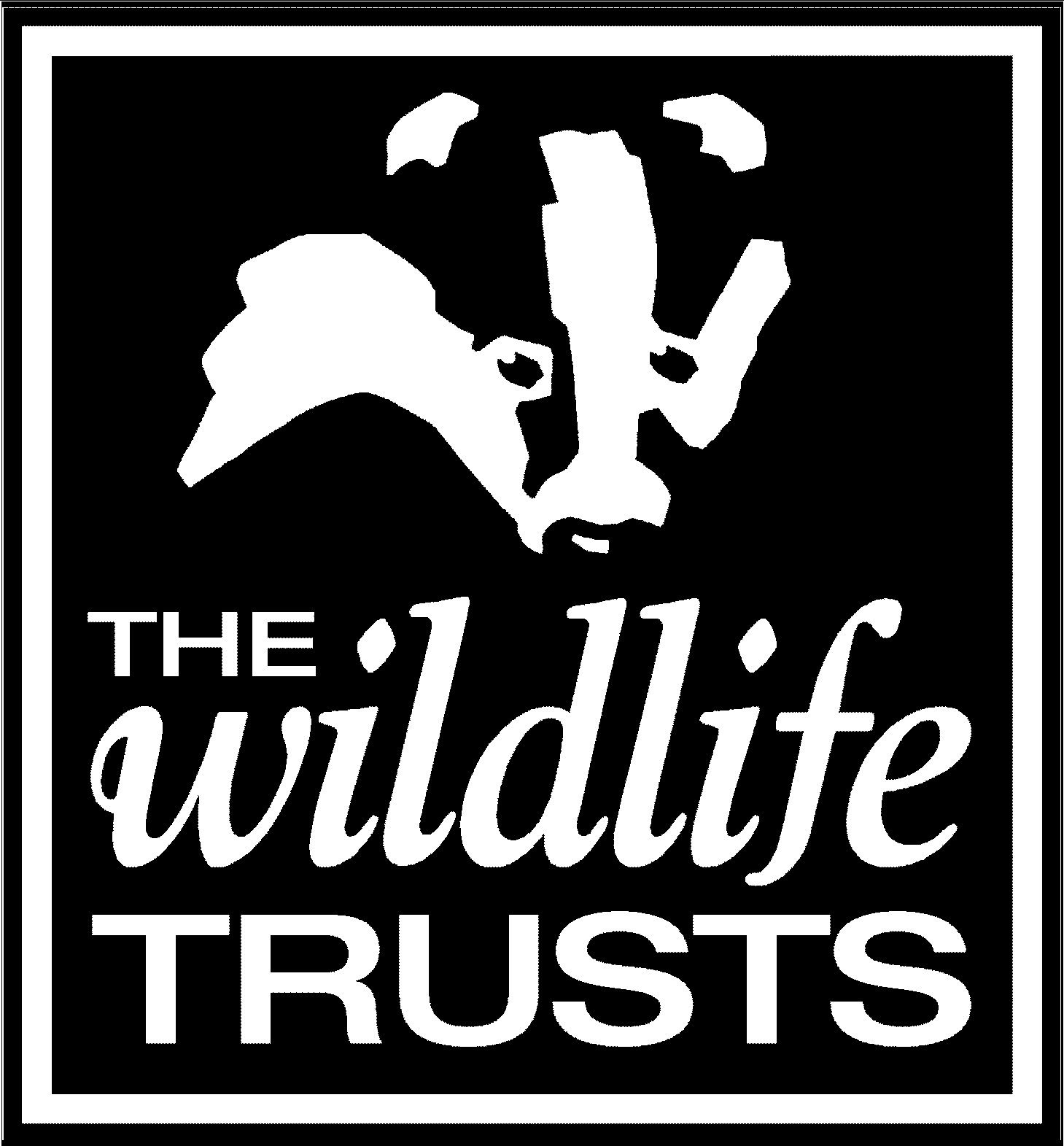 'Living Seas' programme
'Coastal Capers'
organised by Norfolk Wildlife Trust
31st July 2011
10:30am to 4pm
Location:
@ Lower Green, Hunstantion PE36 5BD
View event map
View Google Map
Whale of a Time is proud to have been part of 'Coastal Capers' on 31st July, from 10:30 am until 4 pm. This event was run by the Norfolk Wildlife Trust in partnership with King's Lynn Borough Council and is part of their ongoing Living Seas Campaign. To find out more about Living Seas visit www.norfolkwildlifetrust.org.uk/living-seas
'Coastal Capers' is a free family event to celebrate National Marine Week and raise awareness about the fascinating world below the surface! Visitors took part in a range of activities including clay sculpting of endangered marine species, guided walks, sand sculptures, marine art and coastal explorer sessions.
Organisers' Comments included:
Joanne Prendergast, Education Officer / Coastal Capers and Living Seas Programme Organiser, Norfolk Wildlife Trust said, "...I just wanna say a big thank you to Whale of a Time for coming to our event today. It's been absolutely fabulous. The kids have loved every minute of it and the message that you get across to help us with the marine campaign and the work we do is absolutely brilliant. Thank you very much!"
View photos at Coastal Capers, National Living Seas Programme 2011

Participants' Comments included:
"It was my favourite activity!" Paige Smith (8)
"It was epic and fun." Christian
"Very fun definately doing it again next year." Sam
"Very nice friendly people and very helpful."
"I think this is a good thing for children to do as it gets them thinking about nature."
"Great time, thank you. A really fun and creative way to learn about marine species!" Maddison and Darcy Beales (3, 1)
"We loved getting dirty. Thanks. x"
Please read more comments here.

Green Gathering
28th - 30th July 2011
12 - 6 pm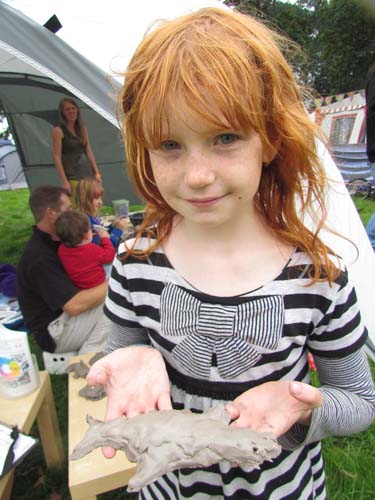 Location:
Traditional British Crafts & Workshops, Piercefield Park of Chepstow, Monmouthshire, NP16 5PD
View Google Map
Whale of a Time is proud to have been part of 'The Green Gathering' from 28th - 30th July running afternoon sessions in the Crafts Field.
The Green Gathering was taking place at Piercefield Park of Chepstow, Monmouthshire. The Green Gathering 2011 will be a family, camping event, for approximately 5,000 people. This festival is a top entertainment powered by renewable energy, inspirational & informative workshops & speakers; ethical markets, organic catering, films, music & cabaret, healing & holistic therapies, esoteric alternatives, creative & energetic children's area. Play and learn together, relax and have fun!
Organisers' Comments included:
Simon Craig, Craft Area Co-ordinator for The 2011 Green Gathering, said that, "Whale of a Time is a truely wonderful workshop that brings to life the plight of endangered animals through a clay making workshop. Irene and her staff are excellent, patient, well informed teachers, who make the experience of learning truely fun. I am very pleased that they chose to grace The 2011 Green Gathering with their workshop as I saw many happy children loving making whales, turtles, and other endangered animals and leaving not just with what they made, but also the message of how important all these creatures are to the wealth and beauty of our planet. I would be more than happy to recommend this workshop to all educators and environmental campaigners who are looking to bring to life the true plight of those creatures that human activities have endangered. A big "thank you" to Whale of a Time for their efforts at this year's event."
View photos at Green Gathering 2011

Participants' Comments included:
"Great, nice space to relax to be creative, thanks!"
"Eric the elephant was born here! Lovely - many thanks" Gran Tefan
"Thank you for a really lovely time here. Your work is really inspiring." Eliane
"I will think before I buy things. Thanks" Paul and Ranka
"Had a great time - soooooooooooooooooooorelaxing. Thank you" Kes xxx
"A lovely afternoon - where did the time go?" Cathy, Thomas and Christopher xxx
"We both had a fabulous time! Several animals created to take home and paint. Thank you very much!" Mady and Lynn xx
"A whale of a time!" ;) Rik
Please read more comments here.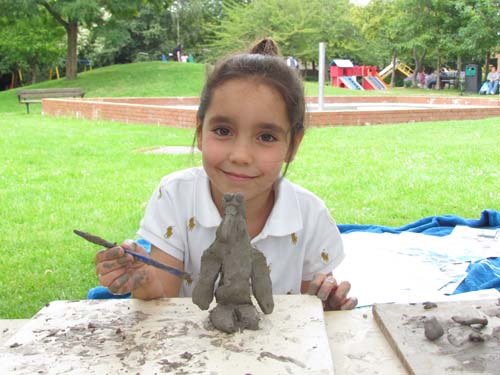 Eco City Living
27th July 2011
1pm to 3pm
Location:
Barnard Park, Copenhagen Street, Islington, London N1 0JU, view Google Map
Audience: Under 5s, Children (5-11), Young People (12+), Adults
Whale of a Time is proud to have been part of 'Eco City Living' in Islington.
'Eco City Living" was a free family event to celebrate creating a greener world. Come down and help create a greener world in the park. Islingtin Council is making improvements to the park and have organised activities to help you learn more about eco living.
Organisers Comments included:
Bhupesh Thapa, West Area Parks Manager, Environment & Regeneration Department, Islington Council said at last year's event at Barnard Park, "We were so happy to have Whale of a Time at our event at Barnard park. The kids loved the workshop which was very professionally run. We look forward to having Whale of Time back in Islington and would highly recommend the workshop."
Lawrence O'Sullivan, Community Ranger, Environment & Regeneration Department, Islington Council, said, "Whale of a Time the event and Greenspace had an excellent day at Barnard Park. - A good time was had by all."
View photos at Eco City Living at Barnard Park in the Whale of a Time Gallery


Participants' Comments included:
"Fantastic for the children, my daughter had a great time. Thank you to the friendly staff."
"Great fun. My son enjoyed himself. All the children seemed to be having a great time."
"It was nice. Good idea for the children who can make something using their hands."
"My children Grace and George really enjoyed making animals. It was a great free activity! Many thanks!" Katie
"Mu daughter Skye enjoyed the clay making activity very much." Sacha
"Great FUN!! Isabella really enjoyed it!!" Anita
"I had great fun with you" Isabella
"A great day which was enjoyed by many children and adults. Great work!
"Lots of fun!" I'll definately be volunteering with Whale of a Time again!" Leah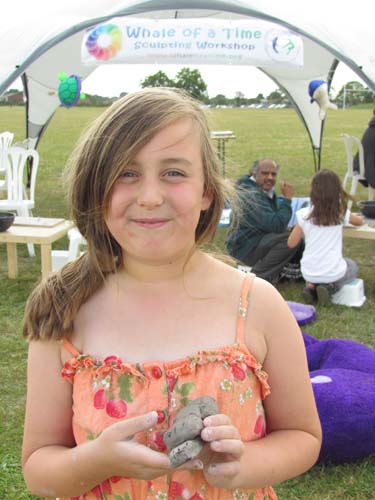 Beam Parklands - Community Launch
Dagenham Wetland Celebration
9th July 2011
11am to 3pm
Where:
The Leys (Park, Wetland site), near Ballards Road, London, RM10 9QH
Nearest Tube station: Dagenham East, approx. 800m north of site, along Rainham Road South.
View Google Map
Download Wetland map (doc)
Whale of a Time was proud to be part of 'Beam Parlands Community Launch' on 9th July, from 11am to 3pm. This event was run by the London Borough of Barking and Dagenham
Watch Whale of a Time Workshop at Beam Parklands in Dagenham 2011
Organisers Comments' included:
Ruth Clarricoates, Park Ranger at Beam Parklands said, "We are at the launch event at Beam Parklands space, that has just started. One of the activities is Whale of a Time. We have had lots of kids interested in it. It's really great for us because this site is very much about nature and wildlife and things that are rare and quite special. For us to get the community involved in that through some very hands on activities especially getting a bit muddy with the clay, getting a little bit wet and getting their hands stuck in is everything that we are about. It fits really nicely i think we will be using Whale of a Time again to do some British species... we have got some water voles on site and they are very rare.. maybe we some clay water voles in future as well! Yeah! we think it's been great so thanks for coming!"
Michael Parr, The Land Trust, said "Whale of a Time really added value to our event. Children and adults alike had a fab and fun time modelling whilst also learning important environmental lessons."
Participants' Comments included:
"Had much fun with the children making things and getting messy, thank you!"
"My son and I enjoyed maing a turtle with the clay - a great idea for community events!"
"Lovely day - this should happen more often!" The Wrights
"I had lots of fun I made a love heart"
"We had lots of fun making dolphins" Kirsty and Nathan
Beam Parklands is pleased to announce that the Parklands has recently won a top national award. The CIWEM (Chartered Institute of Water and Environmental Management) Living Wetlands Award recognises projects that demonstate the sustainable use of wetland habitats.
"The Beam Parklands project shows just what can be achieved when public, private and community groups truly work together. The project has demonstrated real benefits - enhancing biodiversity, improving flood storage capacity and providing a community resource - for a truly winning combination. We hope other communities will follow their lead."
The award specifically recognised that the project is delivering over 12 hectares of vital new habitats such as reed beds, ponds, wet woodland, lowland fen, traditional orchards and acid grassland. These are all natural ecosystems which are in critical decline across the country.
Recently there has been sightings of Reed Bunting, Water Vole and Snipe around the Beam Parklands.... A major role of the rangers will be ensuring that you are involved in the park as much as you want to be. There will be formal ways to get involved such as a "Friends of the Park" group which will e set up by the Rangers and provide a means and forum for involvement and communication.
Get involved and send an email to Ruth Clarricoates (Park Ranger at Beam Parklands)
View also October 2011 - Whale Review - Beam Parklands Community Event
Whale of a Time has been nominated for the London Peace Award 2010, Archant London Business Award 2010, has won the NHS Lambeth Community Wellbeing Competition 2010 and Making a Big Difference Award 2010, and has been nominated for the Archant London Environmental Awards 2009.
Find out more information about the Whale of a Time Workshop and the Whale of a Time Programme.
Become a "Friend of the Whale" by joining the Whale of a Time Community and help raise awareness of our beautiful planet while having a whale of a time!
Come to our Upcomming Whale of a Time Workshops and make your favourite animal species in clay and bring all your friends!
Stay tuned and subscribe to the Whale Mail!
Read about previous workshops including photos, videos and comments at Whale of a Time Reviews
Have a whale of a time! :)
Your Whale of a Time Community
To unsubscribe from the Whale Mail please send an email with the subject "unsubscribe" to whalemail@whaleofatime.org