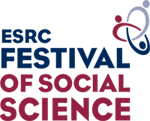 The first Whale of a Time Festival took place on 3 - 4 November at Birkbeck, University of London. The festival was an inspiring and empowering way of getting involved in social and environmental issues through exclusive film screenings by award-winning environmental film-makers followed by informative discussions with leading environmental and social researchers, sustainable art exhibitions, music and the Whale of a Time Workshop in celebration of the Earth and the world's oceans and rainforests.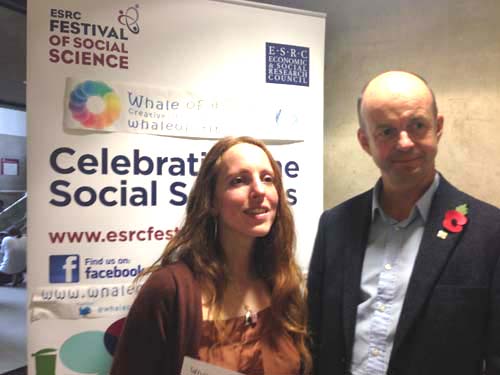 Festival Organiser and Founder of Whale of a Time, Irene Schleining commented, "Thank you for joining us and sharing your passion for a new awareness of the Earth! Passion and experience was shared, tears were shed, solutions discussed, networks built and so much was learnt. Empowering speakers, moving presenters, inspiring films, art and music, a passionate team of volunteers and an engaged audience! We are the voice of the Earth! We are the voice of the oceans! We are the voice of the rainforests!"

Photo: Left, Irene Schleining, Founder Whale of a Time, right, Dr. Dan Laffoley, Marine Vice Chair, IUCN's World Commission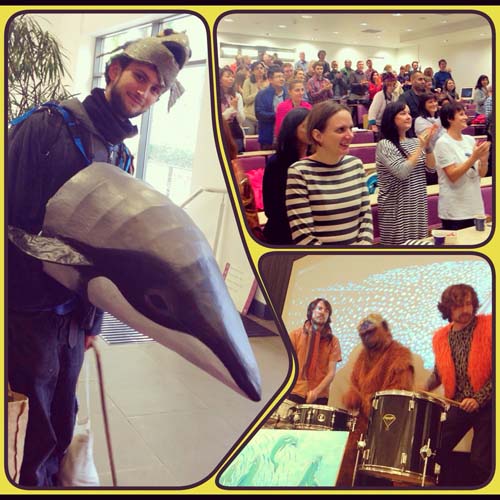 Photo: Taken by Saul Tracey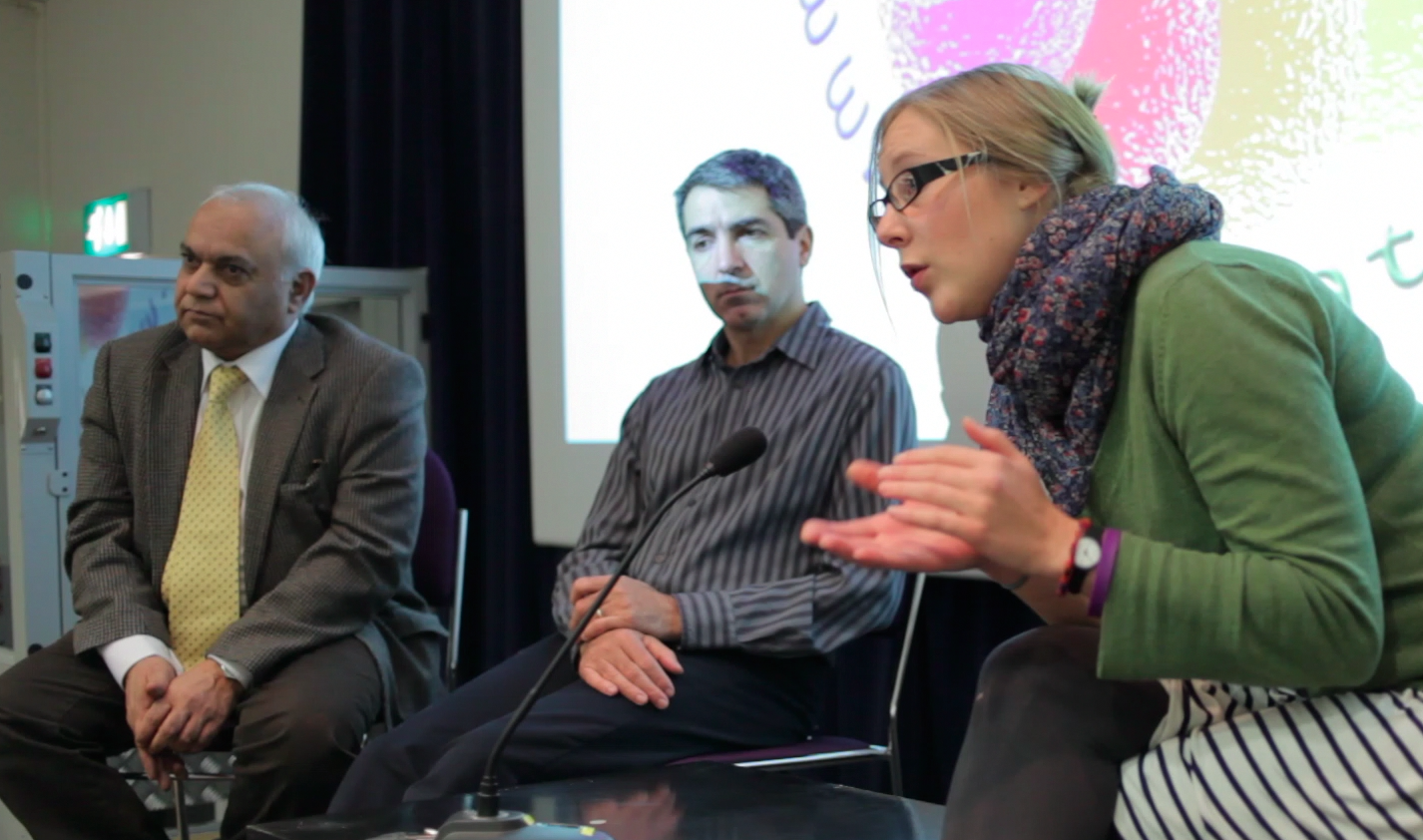 With approximately 600 visitors the Whale of a Time Festival was a huge success. There has never been a more urgent time to elevate our consciousness. Thanks to your presence our feeling of belonging to one Earth Community has been amplified and all voices have been heard. By celebrating our common roots in nature, we are able to nurture and strengthen our sacred bond with our all life providing Mother Earth.

Photo: left, Dr. Sudhir Chopra, LL.M., J.D., Ph.D., FRGS. Law Fellow, Cambridge Central Asia Forum, Cambridge, middle, Dr. Serge Wich, Professor at Liverpool John Moores University and Scientific Advisor to the Sumatran Orangutan Conservation Programme (SOCP), right, Louise Kulbicki, the Legal Co-ordinator for Eradicating Ecocide, headed up by visionary Polly Higgins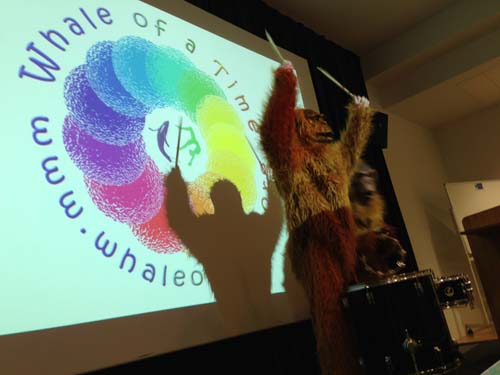 Through this unique bond we are able to realise our committment for a sustainable and contientious relationship with the world's largest ecosystems, the oceans and rainforests. This special relationship connects us deeply with all Earth inhabitants as one Earth family.

All life is intrinsically connected. We share a common intelligence with indigenous communities, whales and their ocean societies, orangutans and their rainforest communities and everything that is alive. All life on Earth has inherent rights to life! The Earth is sacred!

Photo: Performance by Orangutan drummers, Der Kommissar Klub



Whale of a Time Gallery - ESRC Whale of a Time Festival of Social Science 2012


Podcast, commissioned by ESRC

Please click on the image to take part in our survey. We value your feedback!
Read what Whale of a Time Experts had to say!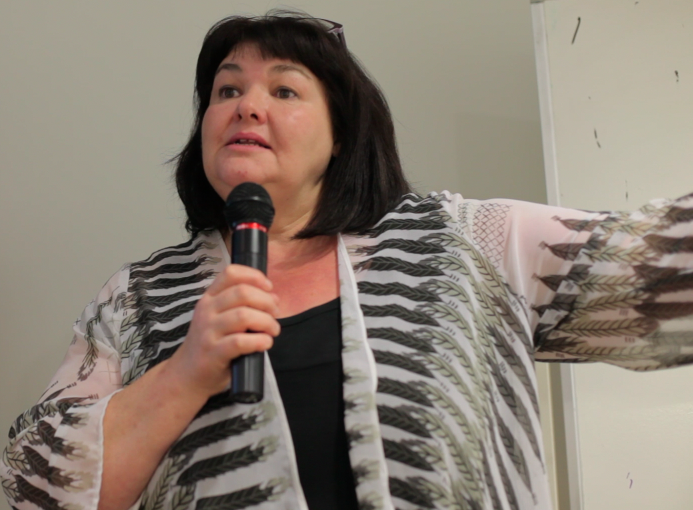 "The Whale of a Time Festival was so uplifting and enriching!  What dizzying and dazzling information; freely given by wonderful, passionate, compassionate people. What beautiful works of art framed the charming and engaged audience! I learnt so much. Hearing about the journeys of film makers and speakers was life changing. The Festival reconnected my love and gratitude to the great oceans for sustaining life on earth. I simply had a whale of a time!"

Penney Poyzer
Presenter and Expert on Eco-homes and Urban Permaculture Gardens, 'Eco Queen - the Queen of Green', from BBC programme "No Waste Like Home"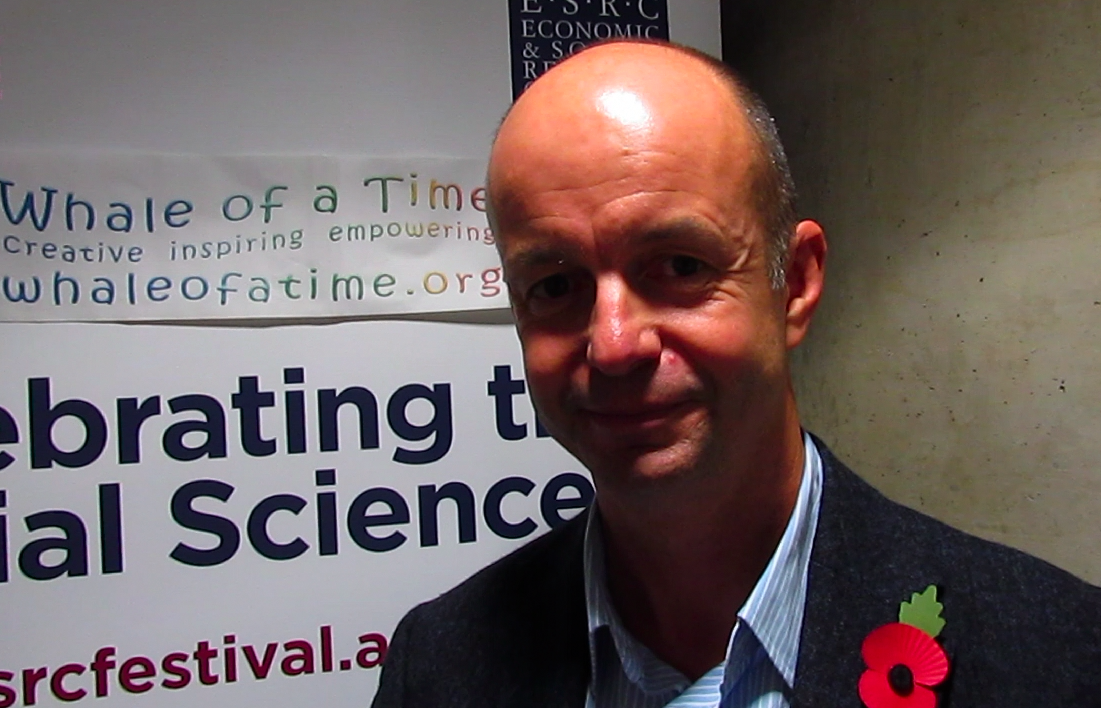 "Amazing people, great fun and a wonderful sense of community and enthusiasm for the ocean are ways in which I can sum up my first encounter with Whale of a Time. It is that sense of passion for the ocean and enthusiasm to bring together experts, the pubic and art that will help save the blue heart of the planet. I look forward to my next encounter with a great group of people and hope that my presentation helped add a little inspiration and sense of hope to the proceedings."

Dan Laffoley
Marine Vice Chair
IUCN's World Commission on Protected Areas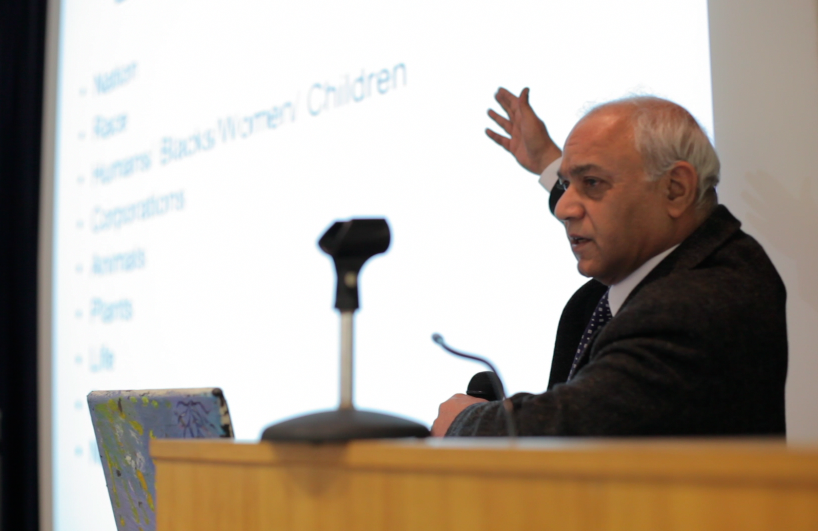 "The festival or better a conference 'Whale of Time,' was a wonderful experience. It was well organised, well structured to cover all major aspects of wildlife issues as well as current environmental concerns. Allmost all the speakers had first hand knowledge in the areas of their expertise and were able to make effective presentation that could be easily understood by laymen as well as people with advance knowledge of the subject matter. It was a very effective exercise in wildlife and environmental advocacy. More events like this ought to be encouraged to increase awareness about contemporary environmental problems."

Sudhir Chopra
Prof. Sudhir Chopra, LL.M., J.D., Ph.D., FRGS. Law Fellow, Cambridge Central Asia Forum, Cambridge, UK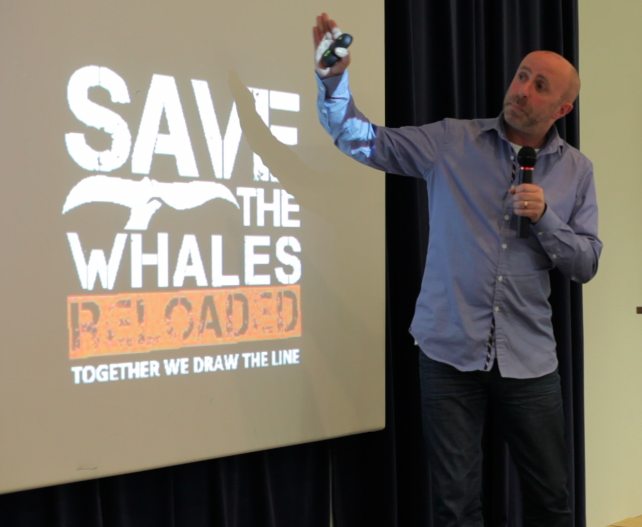 "The Whale of a Time Festival was truly a place to make some amazing connections - connections that were not only personally rewarding, but also those that really moved forward the vital agenda of ocean conservation. I really look forward to the next one!"

Ian Rowlands
Co-Founder
Planet Whale and WhaleFest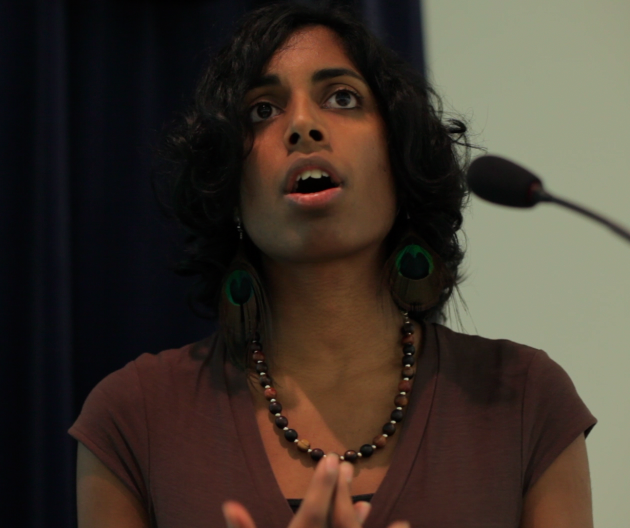 "Thank you to Whale of a Time and all for an inspiring event and celebration of Earth's gift of life and all her communities. Let's continue collaborating to live in harmony with the wider Earth Community."

Carine Nadal
Coordinator of Earth Jurisprudence Learning Centre and legal researcher
Gaia Foundation and Wild Law UK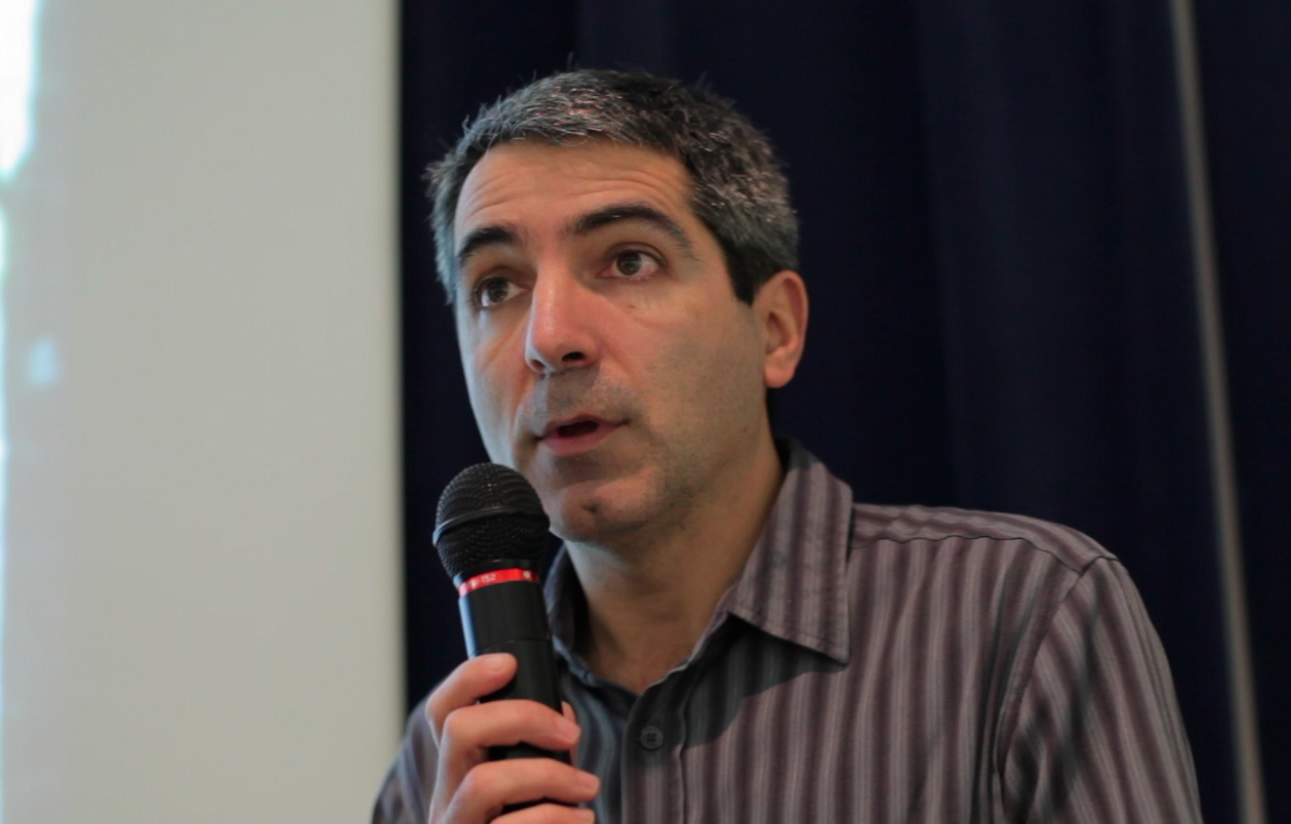 "Being at the Whale of a Time festival was energizing because it brought together a stimulating set of speakers with an audience that is keen to do what they can for conservation to work. Such engagement between various stakeholders in conservation is essential for it to succeed. Conservation and sustainable management of the planet will only happen if all segments of society discuss these issues together and work towards solutions together. Events like the Whale of a Time are crucial steps in getting us there. I am grateful to have been invited to such a great festival."

Serge Wich
Scientific Advisor to the Sumatran Orangutan Conservation Programme (SOCP)
Professor at Liverpool John Moores University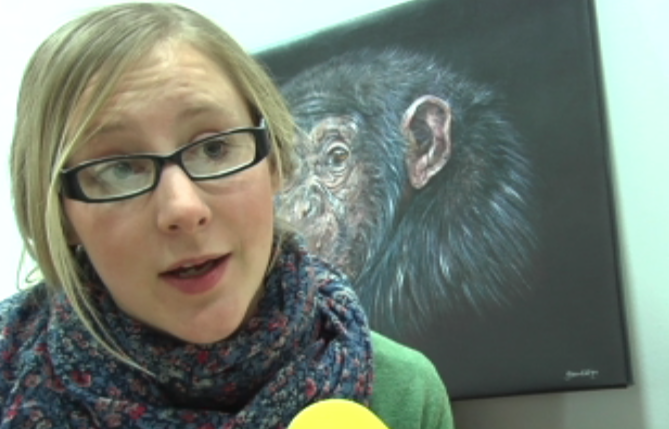 "The Whale of a Time Festival brought together a range of experts, passionate environmentalists and leaders in their field to create two days of inspiring ideas, innovations and solutions. It was a truly inspiring and fun event but with some very serious environmental problems brought home through some moving films. A big thanks to all the team for a great event, I thoroughly enjoyed it and look forward to the next!"

Louise Kulbicki
Lawyer and Advocate
Eradicating Ecocide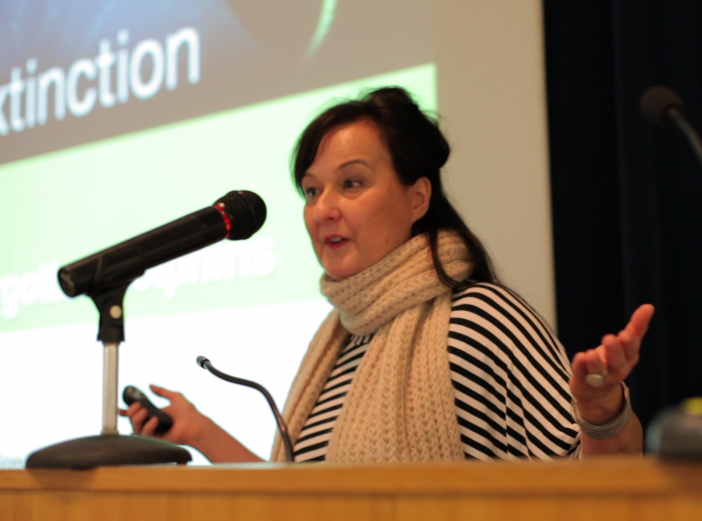 "A BIG THANK YOU FROM THE SMALLEST DOLPHIN AND NABU INTERNATIONAL to Irene and the Whale of a Time Team for hosting us at your spectacular event full of inspiration, creativity and knowledge. We wouldn't have wanted to miss it for the world! ><>"

Barbara Maas
Head of International Species Conservation
NABU International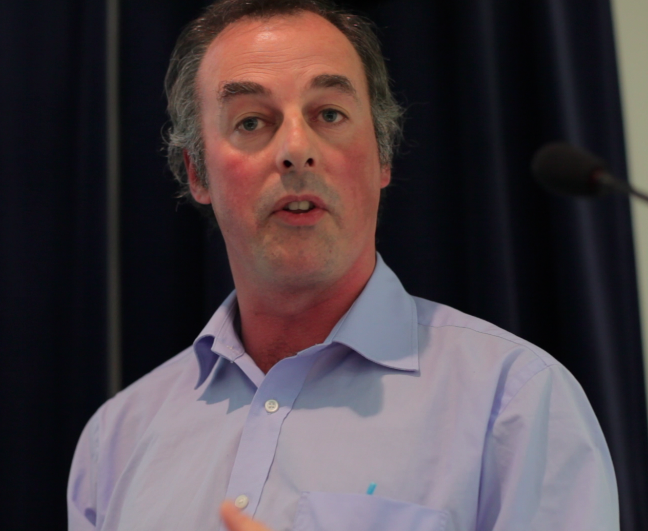 "I very much enjoyed the festival and found the audience very receptive and engaged with the material presented.  The debate was vibrant and open."

Mark Mulligan
Co-Designer of I-Terra
Senior fellow at the United Nations Environment Programme World Conservation Monitoring Centre (UNEP-WCMC)
Geographer, King's College London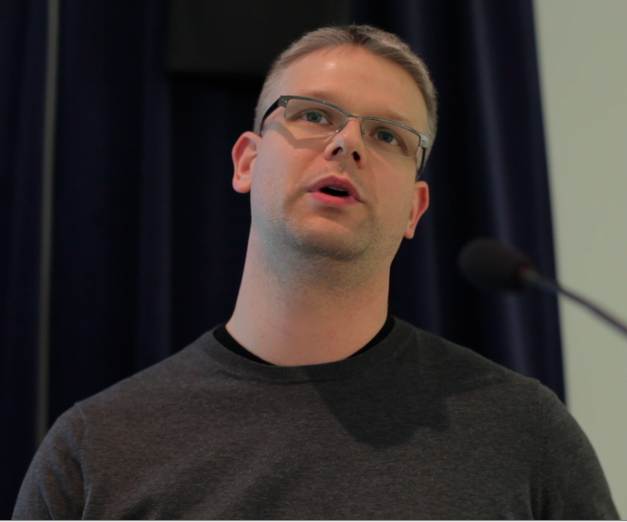 "A big thank you to all of you who made the Whale of a Time festival happen. The audience was amazingly engaged during the lectures and panel discussions and it was great to meet and talk with so many interesting participants. Well done!"

Falko Schmidt
Regional Coordinator UK
DESERTEC Foundation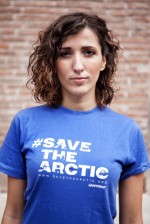 "I would like to thank you for the amazing opportunity that you gave us to join this Festival. It was a very inspiring day. Everybody, the presenters and the members of the audience, were there together to celebrate the oceans. Thank you again for organising this and for supporting our Be a Fisherman's Friend campaign"

Cristiana De Lia
Assistant Campaigner
Greenpeace

Whale of a Time Expert's Presentations (pdf) are available for download in their profiles in the Whale of a Time Community.

More comments:

"Travelled from Coventry to come here today. Well worth the journey. Really informative day. Will go away making every effert to make a difference and to promote the hard work of others." Laura

"I have never met anyone as passionate as these people (Whale of a Time) about the environment apart from Earthwatch team. You should join Earthwatch!" Nigel Winser, Executive Vice President, Earthwatch UK

We filmed the festival and talks will be available to watch online in the new year! We are in the process of editing the video and audio recordings of talks and discussion. Stay tuned with the Whale Mail!

If you have taken photos please feel free to email us. We are happy to credit you and add them to our festival gallery.

For further study on Green (the film by Patrick Rouxel) we recommend following online resource "Studying Green" - The study was a response to the film Green by various Social Science Researchers and includes a series of essays by Dr Sian Sullivan, Senior Lecturer in Environment & Development, Dept. of Geography at Birkbeck University, as well as Gill Branston, John Blewitt, Mike Goodman, Jamie Lorimer, James Igoe, Dan Brockington and the filmmaker of Green, Patrick Rouxel.



FULL PROGRAMME available to download here.

Whale of a Time Art available on sale!

If you didn't get a chance to buy any Whale of a Time Art or the Whale of a Time CD at the festival, here is your chance to buy it now as long as there are any left. If you are interested please send us an email.





Whale of a Time Artists

Ben Loughrill
Geri Roggiero
Asher Jay - Download catalogue (pdf)
Marisa Mann
Marcus Quintal

Limited Edition Whale of a Time CD on sale!

8 Tracks from selected Whale of a Time Musicians available for suggested donation of £8 plus £2 postage.


The purpose of the CD is to promote Whale of a Time Musicians and raise their profile through the Whale of a Time Festival and the Whale of a Time Community. The Whale of a Time Community is a creative platform for social and environmental inspirations and community evolution.

Whale of a Time Artists donate a percentage towards Whale of a Time. The donations help us to organise creative, educational and empowering community events such as the Whale of a Time Festival and the Whale of a Time Workshop to inspire a new awareness of the Earth.

Whale of a Time Festival Survey

If you joined us at the ESRC Whale of a Time Festival, we would most welcome your feeback. Please take a few minutes to complete our survey here.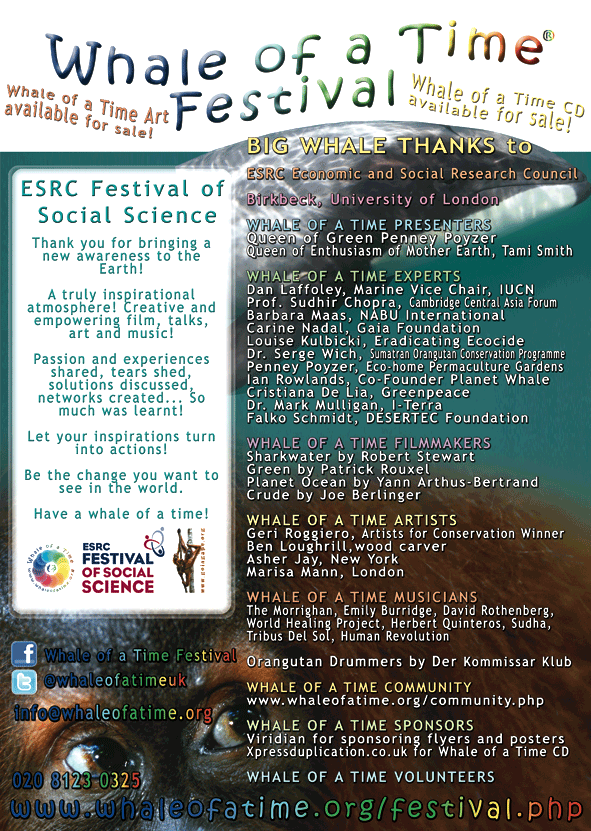 For a new awareness of the Earth!

Have a whale of a time!




MOST PRESSING ENVIRONMENTAL ISSUES OF TODAY





The Case of the Rights of Cetaceans!

The Case of Eradicating Ecocide!
Sign this petition and help to make Ecocide an International Crime Against Peace!
WISH20: End Ecocide by 2020

The Case of the Rights of Mother Earth!

The Case of Marine Protected Areas!

The Case of Save the Whales - Planet Whale!

The Case of Shark Conservation - Make Shark Fin Soup illegal!

The Case of the Maui Dolphin 55 left in the world most endangered cetacean!
Sign Maui Dolphin Petition!
Maui's Dolphin Consultation documents
Make the Maui Dolphin the National Symbol of New Zealand!
Let's face it - Visual Petition!

The Case of critically endangered Sumantran Orangutans - Save Tripa!

The Case of Ocean Pollution - Ship Breaking Platform!
The Black Fish!
Rise Above Plastic!

The Case of Over-Fishing - Greenpeace Campaign!

The Case of Save the Amazon!

The Case of Saving the Southern Ocean!



WEBSITE LINKS

Whale of a Time

Whale of a Time Festival

Whale of a Time on Facebook

Whale of a Time GoGetFunding Page

ESRC Festival of Social Science

Follow us on Twitter

Going Ape



Whale of a Time won the London region of the Future Friendly Awards 2011, the NHS Lambeth Community Wellbeing Competition 2010 and Making a Big Difference Award 2010, and was nominated for the London Peace Award 2010 and 2011, the Archant London Business Award 2010 and the Archant London Environmental Awards 2009.

Become a "Friend of the Whale", stay tuned and subscribe to the Whale Mail!

Find out how to become a Whale of a Time Volunteer or support the growing wave of sustainable change through Whale of a Time Sponsorship / Whale of a Time Funding Opportunities.

Have a whale of a time! :)

Your Whale of a Time Community















To unsubscribe from the Whale Mail please send an email with the subject "unsubscribe" to info@whaleofatime.org